Dr. Phil Zeltzman's Blog
The American Veterinary Medical Association (AVMA) recently published their guidelines on the age to spay or neuter cats. The official title of the document is "Veterinary Task Force on Feline Sterilization Recommendations for Age of Spay and Neuter Surgery."
This is a highly controversial and debated topic (even more so in dogs). There are many opinions out there. Many people have an opinion on the subject, often based on dogma or personal beliefs more than on science.
The AVMA put together a group of various veterinarians (from corporations, private practice, vet schools and associations). They also included non-veterinarians: Steve Dale (behaviorist and journalist), a lady from the Philanthropy for Animal Advocates and the Chair of the Cat Fanciers' Association.
So I think it's fair to say that there were many cat lovers and cat advocates on the team. So what are their conclusions? I quote (I only added a few definitions):
"Current recommendations for the age to sterilize (spay/neuter) cats are arbitrary and inconsistent. Adoption of evidence-based guidelines is expected to limit confusion among cat owners, reduce the risk of unwanted litters, and maximize health and welfare benefits. (…)
The following key findings and proposals emerged from a review of the currently available scientific literature and group discussion:
1. Recommendations for the optimal age to sterilize cats may differ from the age to sterilize dogs.
2. Current scientific evidence documents benefits of spaying kittens before the first estrous cycle, including the following:
. Decreased risk for mammary carcinoma (aka breast cancer).
. Elimination of reproductive emergencies such as pyometra (aka an infected uterus) and dystocia (aka difficulty giving birth).
. Avoidance of unintended pregnancies that may occur as early as 4 months of age
. Potential decrease in behavioral problems linked with cat relinquishment.
3. Current evidence does not support an increased risk for cats of complications or long-term adverse health effects with pediatric (6-14 weeks) or juvenile sterilization (>16 weeks).
4. More controlled prospective research specifically examining different ages in sterilization in cats is needed.
As new information becomes available, the recommended age for sterilization of cats should be revisited.
5. There is potential to increase the number of sterilized cats and reduce the unplanned/unwanted litters of kittens if veterinarians routinely schedule this surgery for client-owned cats at the end of the kitten vaccination series.
Given the known benefits of sterilization and the lack of evidence for harm related to age at which the procedure is performed, the Veterinary Task Force on Feline Sterilization calls for veterinary practitioners and professional associations to recommend sterilization of cats by five months of age. This provides veterinary practitioners with a consistent message that may increase veterinary visits and spay/neuter compliance while reducing the risk of pet relinquishment and unwanted offspring."
Bottom line: spay or neuter your kitten by 5 months of age. Simple!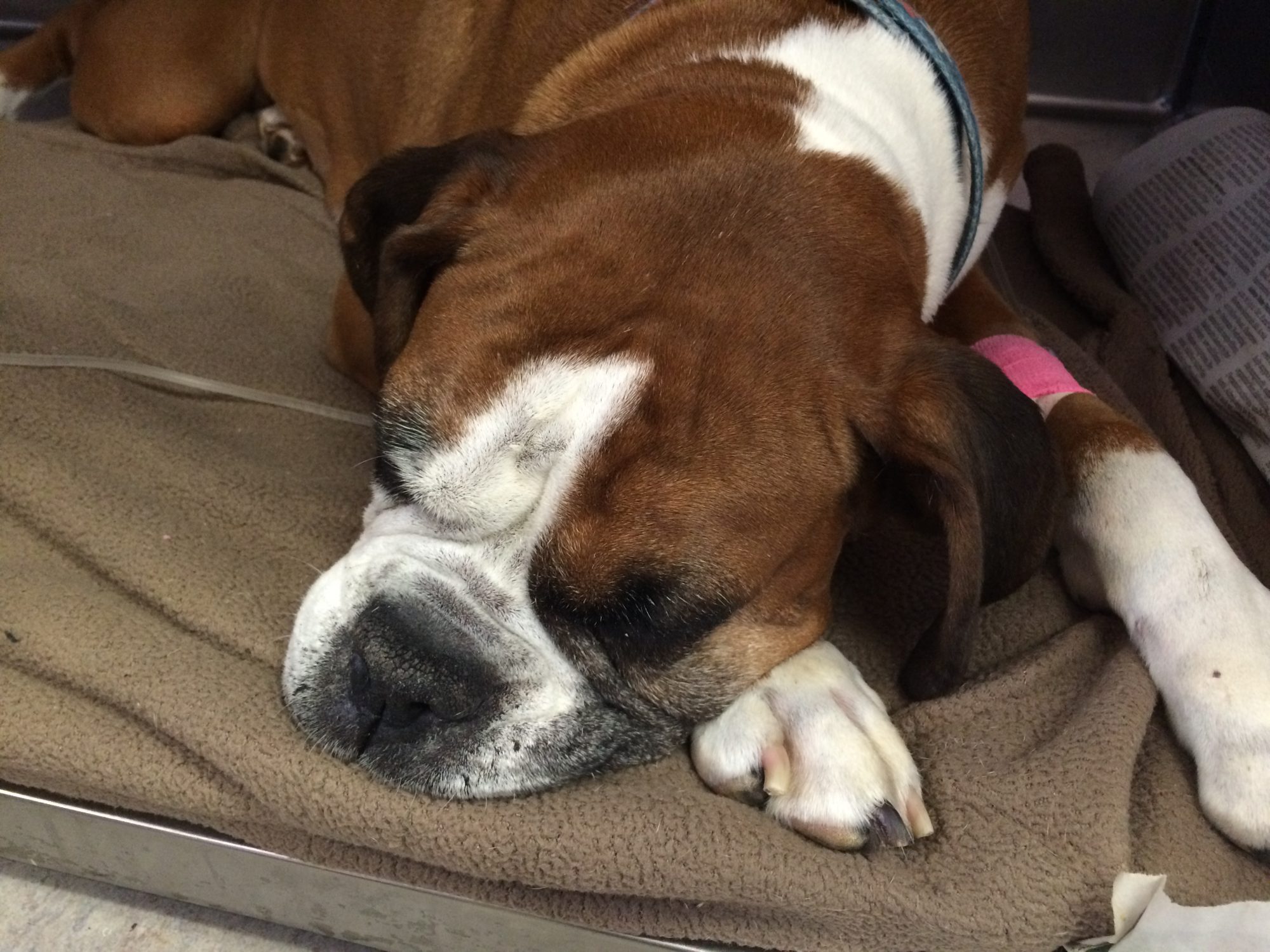 Dakota, a 7-year-old female Boxer, was brought to her family vet because she hadn't been acting herself for about two weeks. She was drinking more, eating less, and seemed weak.
X-rays revealed that Dakota had a very large uterus. Her classic symptoms and the X-rays confirmed that Dakota had a pyometra. This means that her uterus was filled with a large amount of pus.
This can be deadly.
Emergency surgery was performed that same evening at Brodheadsville Veterinary Clinic. Removing a pyometra is essentially a complicated spay procedure. The main difference is that the uterus is huge and filled with infected fluid. Care must be taken to remove the infected uterus without any spillage to the rest of the belly. After surgery, the uterus weighed in at 7 pounds.
You can see a video of part of the surgery below. Just know that it contains graphic footage of a surgical procedure, so if you're sensitive to that you may want to skip the video.
Dakota recovered quickly from surgery and anesthesia, and started eating and drinking normally shortly after that. She was back to her lovable self in one week.
Spaying your pets is essential! If you spay your cat or dog at an early age, you help reduce the risk of uterine cancer, ovarian cancer, and pyometra. Plus, spaying your pet before the first heat cycle virtually eliminates the risk of mammary tumors (including breast cancer).
If you are not planning to breed your female pet, please plan to have her spayed before she ends up in a life-threatening situation!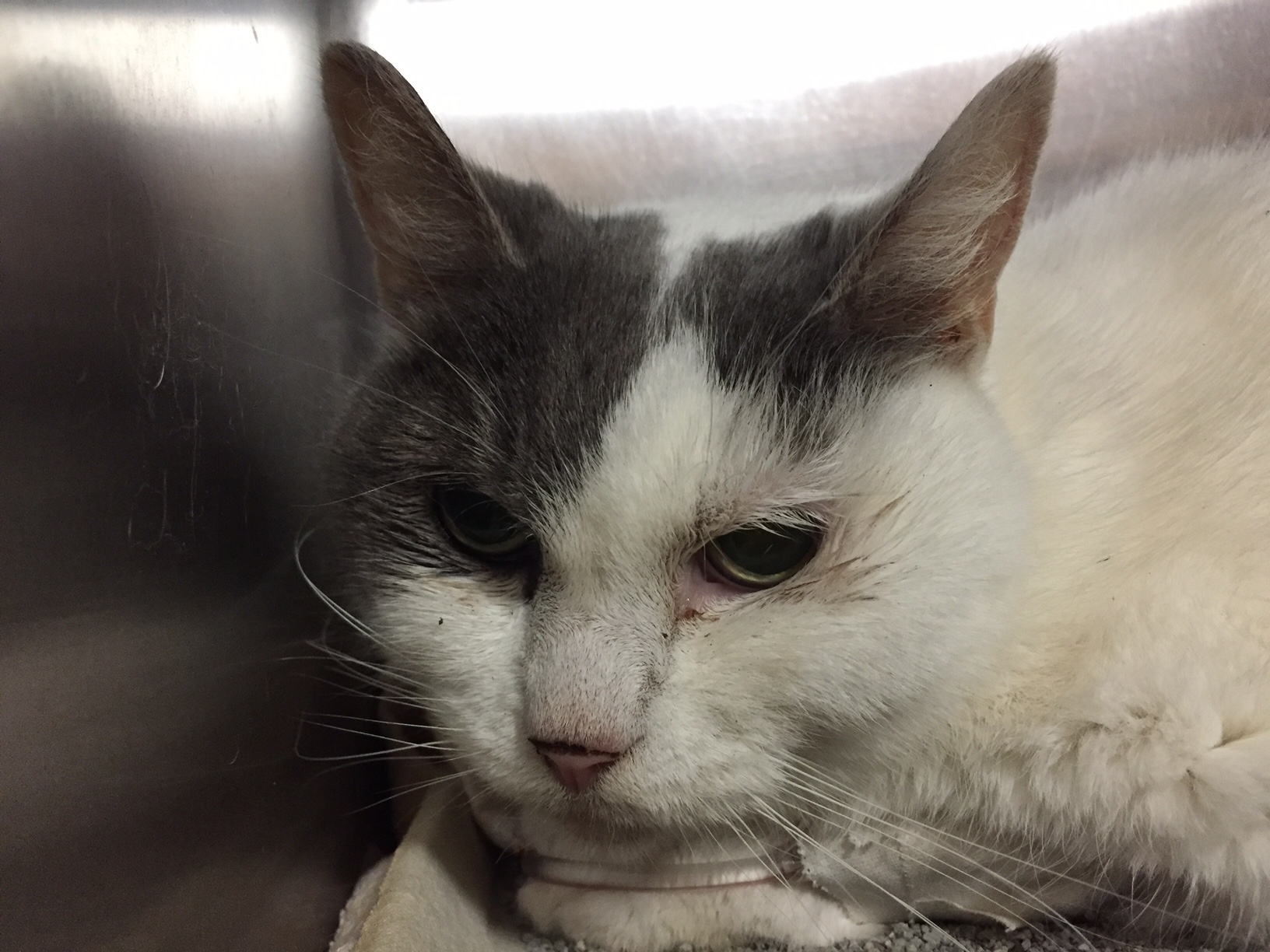 When veterinarians say it's important to spay your pets, we really mean it! Skinny Minnie is a nine-year-old female cat. She was taken to the local emergency clinic because she wasn't feeling well and had a bloody discharge from her vulva. An ultrasound showed a pyometra – a uterus full of pus.
She was started on IV fluids, pain medication and antibiotics. Emergency surgery was scheduled at South Mountain Veterinarian Hospital the next day.
Surgery for a pyometra is essentially a modified spay. It's a bit riskier since there are much larger blood vessels than usual.
Thankfully, surgery went well and she made a full recovery.
Skinny Minnie's owner is now aware that cats (and dogs) should be spayed before they are 6 months of age to avoid pyometra, as well as unplanned pregnancies and mammary tumors. Spaying a pet can save her life!