Dr. Phil Zeltzman's Blog
Sam is a 12-year-old Jack Russell, who had been vomiting and was lethargic for a few days. X-rays and an ultrasound revealed that he had swallowed a foreign body. There was a suspicion that he chewed pieces of carpet.
Carpet is really made of a very long string, so the risk was that Sam had eaten what is called a "linear" foreign body. Linear foreign bodies can be deadly if they cut into the intestine.
Sam was taken to surgery at Berks Animal Emergency & Referral Center. Two foreign bodies could be felt: one in the stomach and one in the small intestine. You can watch the removal of the string from the stomach and the intestine below. The video does contain graphic footage of a surgical procedure, so you may want to skip it if you're sensitive to that type of footage!
Although we expect puppies (and kittens) to eat things they shouldn't, older pets should know better. Most of the time, when an adult swallows a foreign body I suspect there is an underlying medical condition. I always take biopsies of the stomach and the intestine during surgery to check. Sure enough, Sam's biopsies revealed a common condition called Inflammatory Bowel Disease (IBD). This disease can and should be treated to make him feel better and to hopefully prevent him from swallowing another foreign body.
Happily, Sam recovered nicely after surgery! Make sure to doggy proof your house to reduce the risk your pet will eat something dangerous. And if your dog or cat is vomiting, don't wait! Take him to the vet to get it checked out.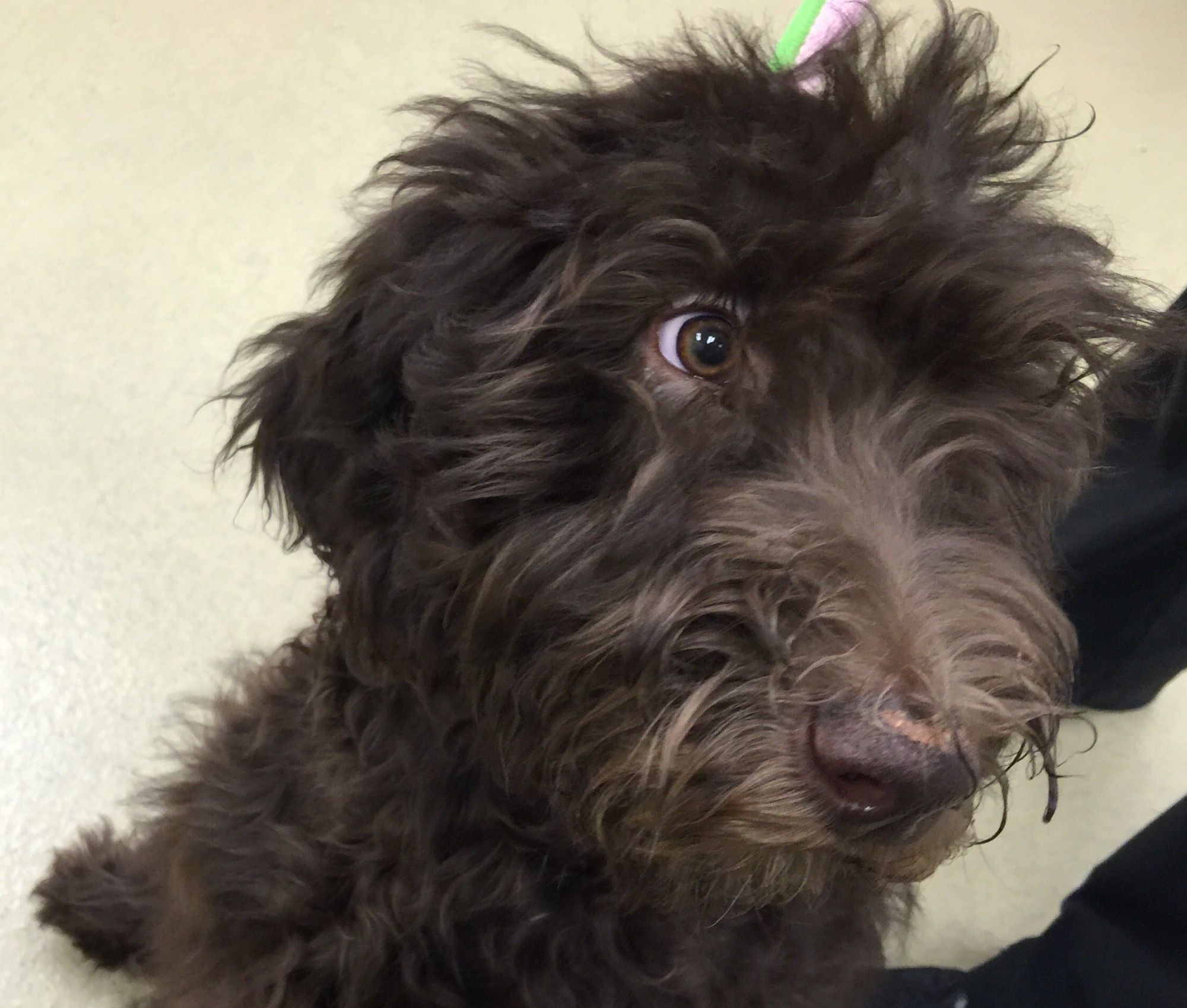 Marlee is an adorable four month old female Labradoodle, who was constantly licking her lips.
Her family took her to the emergency vet whose first thought was something might be stuck in Marlee's mouth or throat. An exam under sedation confirmed the suspicion: there was a string wrapped around her tongue. He gently pulled on it, but it was stuck.
Marlee had a classic "string foreign body" or "linear foreign body." It typically goes down into the stomach or intestine. Once it reaches the intestine, the string can cut into it and cause leakage of its content. This causes peritonitis, which can be deadly.
I performed Marlee's surgery at Berks Animal Emergency and Referral Center. Marlee's belly was opened up in surgery. Her stomach was full of food. Luckily, the intestine did not seem to be affected, which meant the string was stuck somewhere in the stomach.
I felt around, but it was impossible to recognize anything because of the amount of food. I asked the anesthesia nurse to gently pull on the string from inside the mouth. It was stuck. If the nurse couldn't pull the string out, our only other option was to open the stomach, and dig around until the string would be found.
At the last second, just before I cut into the stomach, something slipped between my fingers and I distinctly felt a round foreign body slide from the stomach into the esophagus (the tube between the mouth and the stomach).
This stroke of luck allowed the anesthesia nurse to gently pull on the string. Little by little, she managed to pull two feet worth of string through the mouth!
Marlee recovered beautifully! She woke up smoothly after anesthesia, and by the time of her staple remove two weeks post-op, she was completely back to normal.