Dr. Phil Zeltzman's Blog
Scout, a 9 year old female Labrador, had been having urinary issues for weeks, including frequent urination, accidents in the house and bloody urine.
These are classic signs for a urinary tract infection. So Scout was treated with antibiotics. There was no improvement. Another round of antibiotics was prescribed: still no improvement. When antibiotics don't resolve a presumed bladder infection, it's time to explore other less obvious diagnoses…
An ultrasound was recommended. It revealed a big mass in Scout's bladder (see yellow arrows below. The mass is grey-ish, urine is blackish).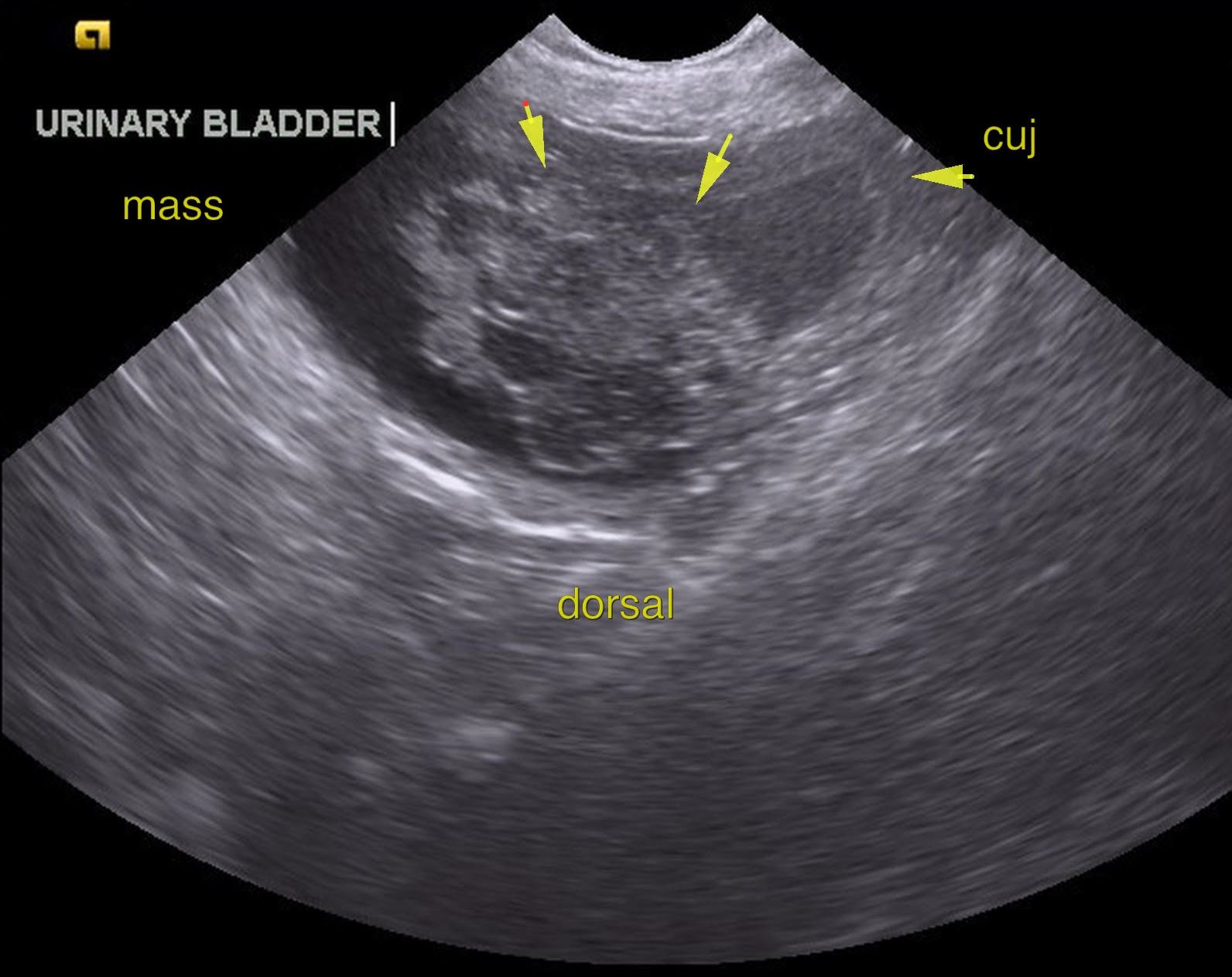 This was bad news since, statistically speaking, the vast majority of masses found in a dog's bladder are cancerous (most often transitional cell carcinoma).
Regardless, Scout's loving owners elected surgery to give her every possible chance. Scout underwent a laparotomy (abdominal surgery) to have the bladder mass removed and biopsied. The mass was the size of a walnut. About one third of the bladder had to be sacrificed. The rest of the bladder was reconstructed with multiple stitches. Surgery went smoothly. Scout recovered well, and was sent home the next day.
As expected, she did have a few days of bloody urine immediately after surgery, but it cleared up after a few days.
The mass was sent to the lab for biopsy. After a week of agonizing wait, the biopsy revealed… that the tumor was benign! Despite the statistics, despite everybody's opinion, and despite the ultrasonographer's impressions, the mass was… a benign polyp. This was amazingly good news for Scout and her owners!
Three weeks after surgery, my nurse removed Scout's stitches and commented: "She's doing great. She's urinating normally, eating and drinking well, and super happy. Her owners are super happy and thanked us up and down for all our help."
Remember: a mass is not cancer until the biopsy says so. Please don't make any drastic decisions based on assumptions and statistics.
Scout was supposed to have bladder cancer, yet ended up with a benign polyp, which will not at all affect her lifespan.
Phil Zeltzman, DVM, DACVS, CVJ, Fear Free Certified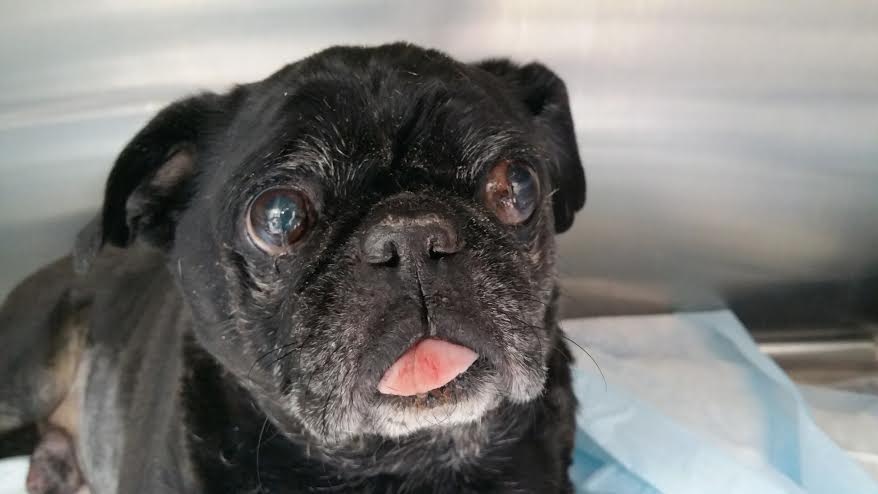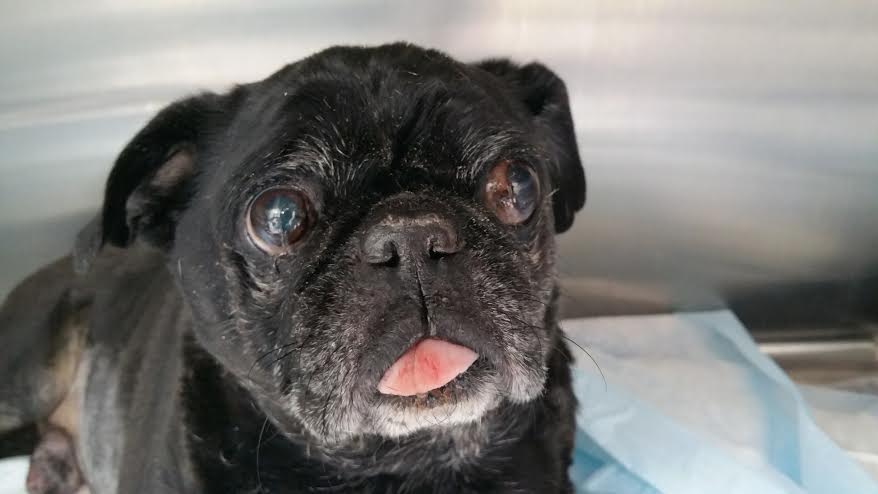 PeeWee is a 7 year old male Pug who couldn't urinate. He was examined at Barton Heights Veterinary Hospital and an X-ray revealed bladder stones. Some of the stones were able to go down the urethra, which is the tube between the bladder and the outside world. They got stuck and PeeWee couldn't go to the bathroom.
The red arrow on the X-ray shows some bladder stones. Along the urethra, the green arrow is pointing to some strong stones that look like a string of pearls.
PeeWee needed two surgeries to fix him up! The first was a cystotomy. This is a bladder surgery that allowed the removal of stones. The stones that were blocking the urethra was pushed back into the bladder, and removed from there.
The second surgery was a urethrostomy.
We suspected that PeeWee had calcium stones, which can sometimes come back. The goal of the urethrostomy is to prevent (or at least greatly decrease) the risk of becoming blocked again. PeeWee had to be neutered in order to perform the urethrostomy.
A larger opening was created in the urethra, making it easier for small stones that might form in the future to escape with urine.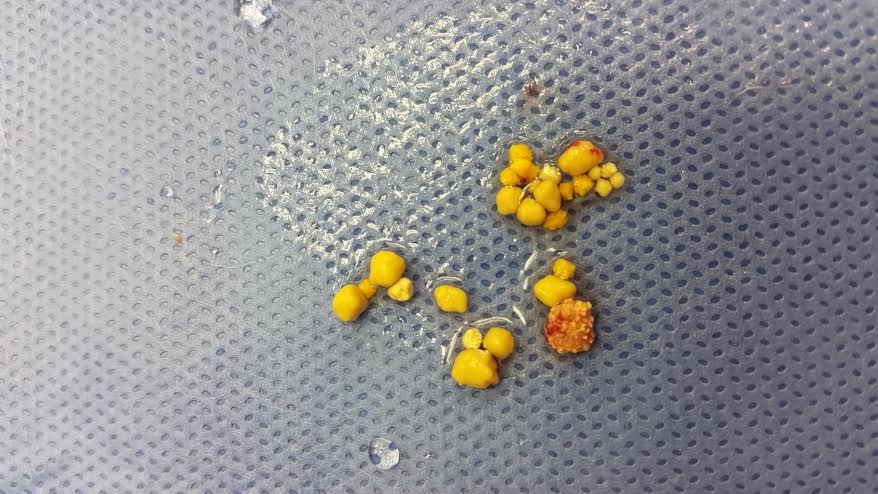 The stones were sent to a lab for analysis, which later confirmed the suspicion of calcium stones.
PeeWee rested for 3 weeks before he was released from his restricted activity. He is now back to normal. Life is much more pleasant when you can urinate!
Bladder stones do not discriminate. They can affect any dog or cat, of any breed, of any age. If your pet ever shows signs that they're having trouble urinating, take them to the veterinarian as soon as possible!