Traveling Veterinary Surgery Services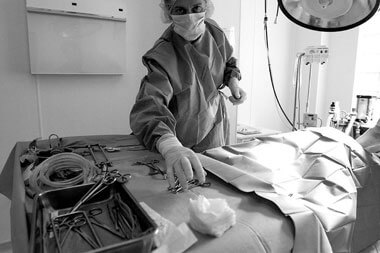 Specialized pet surgery can be a stressful experience for both pets and their owners. Many times, owners are required to travel to veterinary hospitals far away from home. For residents of eastern Pennsylvania and western New Jersey, high quality surgical care for their pets may be as close as their neighborhood veterinary clinic.
A veterinarian since 1993, Dr. Phil Zeltzman has been involved in mobile surgery since 1997, traveling full time to clinics since 2010. Dr. Zeltzman's services include:
Orthopedic Surgery
Encompassing conditions of the bones, joints, muscles, ligaments, and tendons, orthopedic surgery is a procedure many pets will face, especially as they age.
Soft Tissue Surgery
While some soft tissue surgeries are straight forward, other procedures may require the skill of a specialist.
Cancer Surgery
As pets age, thanks to the excellent care their owners provide, cancer surgery is becoming as common in pets as it is in humans. The bigger issue for animals, however, is finding a nearby specialist.
Neurologic Surgery
No procedure may be as delicate as neurologic surgery. Brain and spinal surgery require a surgeon with both skill and experience.
Post-Surgery Care
As important as the procedure itself is the post-surgery care your pet receives. From recovery to follow-up care, Dr. Zeltzman will discuss the care your pet needs after surgery.
Pain Management
A subject highly important to chronic conditions, as well as post surgery care, pain management must be handled appropriately and compassionately.
Overweight Pet
Many owners are faced with an overweight pet. Dr. Zeltzman provides recommendations for your pet's weight management as needed.
For more information about the services provided, please contact Dr. Zeltzman today.
Note: Dr. Zeltzman's picture above is courtesy of Dr. Johnny Slaughter, veterinarian and photographer extraordinaire. Thanks Johnny!