Dr. Phil Zeltzman's Blog
Toto can't pee because of bladder stones!
Toto, an 8 year male terrier, had difficulty urinating. He was painful and struggled to pee, and not much urine came out despite his efforts.
An exam and X-rays revealed that he had stones in the bladder. The blockage was caused by smaller stones that were formed in the bladder, then were small enough to go down into his urethra. The urethra is the tube that goes from the bladder to the penis. The small stones lined up in the urethra like a string of (deadly) pearls.
Can you spot all stones?
Here is the same X-ray with the bladder (2 ovals at the top) & urethral stones (oval at the bottom) circled.
The easy part was to perform bladder surgery (aka cystotomy) to remove the big stone and a few small ones.
Here is the big bladder stone: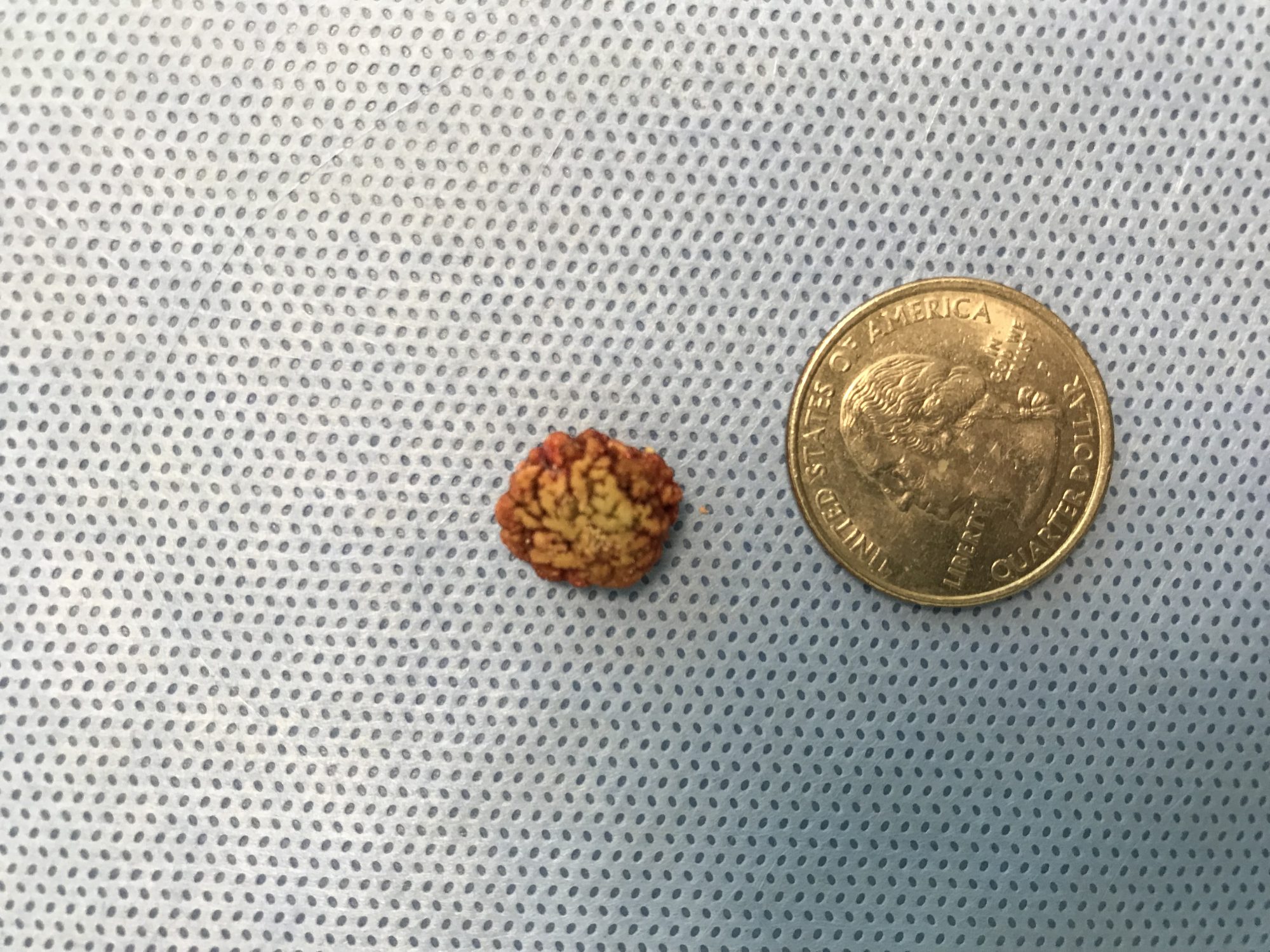 The hard part was to push the tiny, spiky stones from the urethra back into the bladder, from which they can easily be removed.
If that doesn't happen because the stones are literally stuck in the urethra, then a second surgery needs to be done to create a new, larger opening in the urethra (aka a urethrostomy). This can be done successfully, but we always try to avoid it.
Because I know that my readers and subscribers are sensitive souls, I can't explain exactly how the stones are moved from the urethra into the bladder. Let's just say that we use sterile saline under pressure. As a reminder though, the patient is under general anesthesia during surgery!
It was an amazing surgery. Initially, the stones didn't bulge at all.
We kept pushing more and more sterile saline – nothing.
Then all of a sudden, 3 small stones came out.
After multiple other unsuccessful attempts, another 2 stones came out.
The whole team was watching and cheering as my nurse and I struggled to push these stubborn stones back into the bladder.
So we continued to fight for Toto.
Little by little, stone by stone, we managed to move all of the stones into the bladder.
Toto didn't need a urethrostomy after all.
Surgery was a success!
Here are the small urethral stones:
Toto was eventually able to go home, where he had to rest very strictly for 3 weeks. He had to wear a plastic cone around his head to prevent him from licking the incision. He recovered smoothly and has been happily urinating ever since surgery. He was switched to a special food to try to prevent the stones from coming back.
A few weeks after surgery, the stone analysis results confirmed the suspicion of "calcium oxalate" stones, i.e. they were made of calcium. So Toto had to eat that special diet exclusively for the rest of his life.
Toto's surgery was truly challenging. It took a lot of effort, but in the end, the fight was worth it.
I just checked on Toto. Four years after surgery, he's still peeing like a champion!
If you would like to learn how we can help your pet with safe surgery and anesthesia, please contact us through www.DrPhilZeltzman.com
Never miss a blog by subscribing here: www.DrPhilZeltzman.com/blog
Phil Zeltzman, DVM, DACVS, CVJ, Fear Free Certified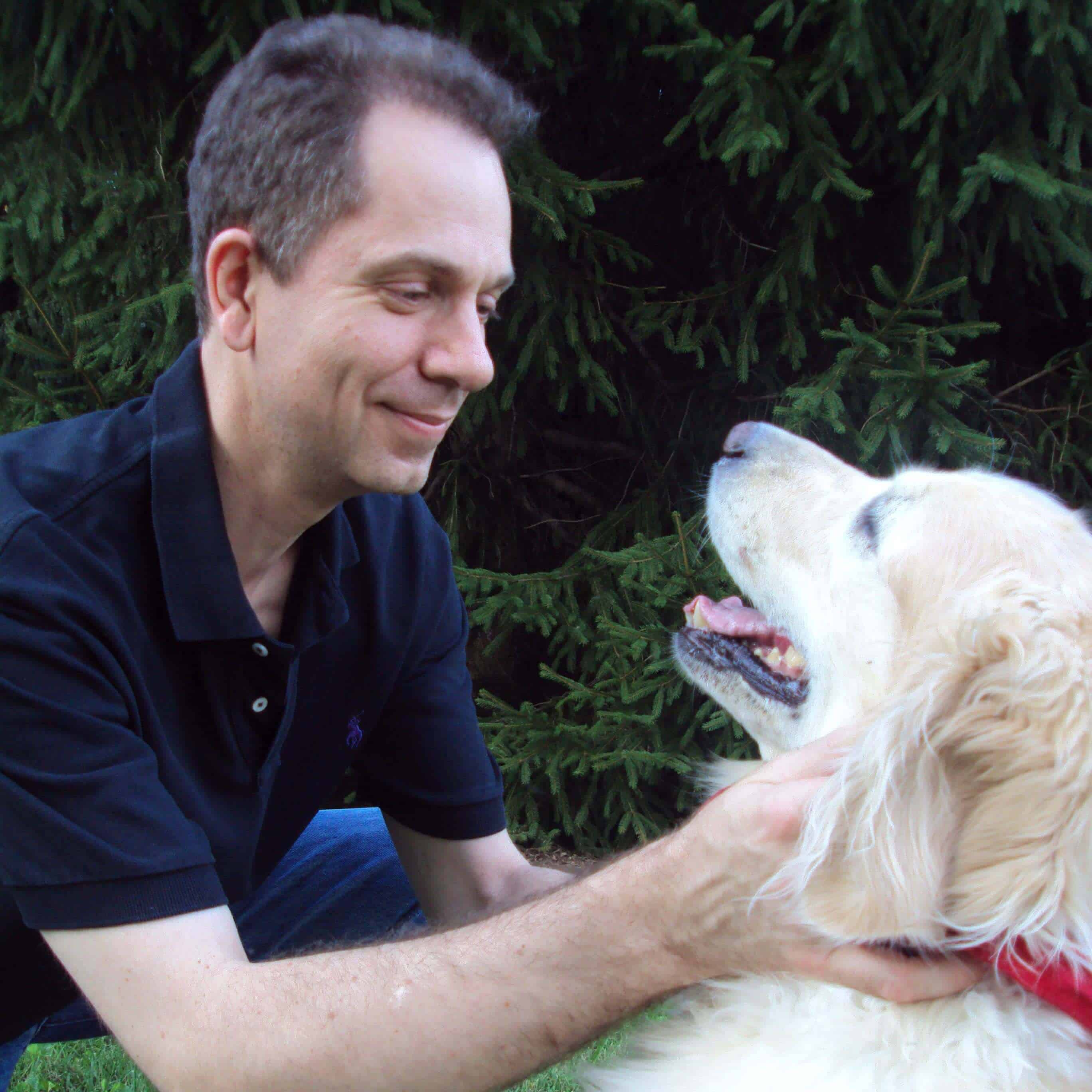 Dr. Phil Zeltzman is a traveling veterinary surgeon in Pennsylvania & New Jersey. An award-winning author, he loves to share his adventures in practice along with information about vet medicine and surgery that can really help your pets. Dr. Zeltzman specializes in orthopedic, neurologic, cancer, and soft tissue surgeries for dogs, cats, and small exotics. By working with local family vets, he offers the best surgical care, safest anesthesia, and utmost pain management to all his patients. Sign up to get an email when he updates his blog, and follow him on Facebook, too!