Dr. Phil Zeltzman's Blog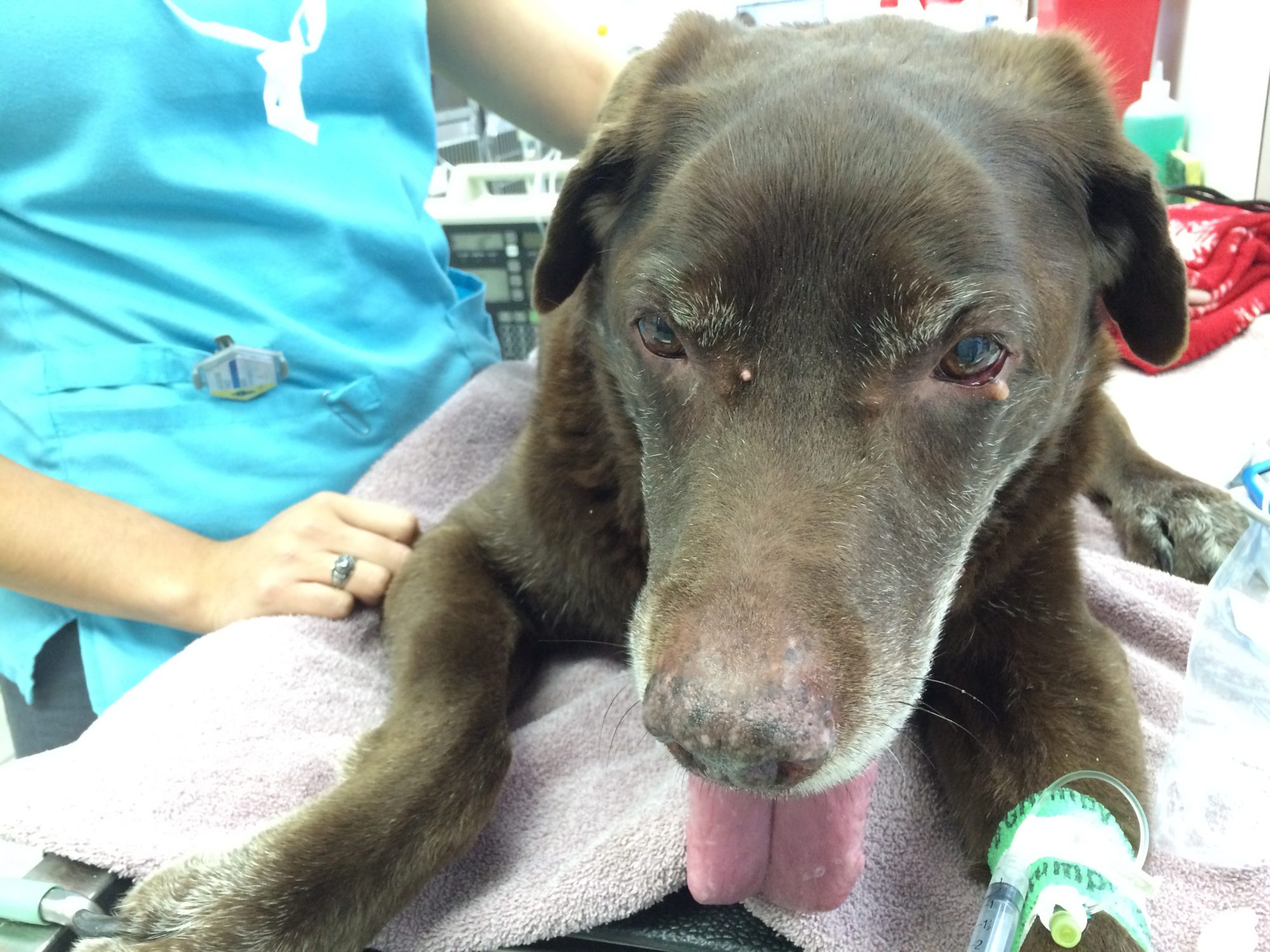 They say that a journey begins with a single step, but sometimes that step is into your car so you can drive five hours for a scheduled surgery!
Hershey's owner drove all the way from Jamestown, New York near Lake Erie so I could perform surgery at Barton Heights Veterinary Hospital in Pennsylvania. It was quite the road trip.
Hershey is an eleven-year-old Lab whose laryngeal paralysis made it difficult for him to breathe. A complicating factor is that he's diabetic. Hershey's vet was not sure that surgery was the best bet, but his owner loves Hershey and wasn't ready to give up on her best friend.
You can see a video of Hershey and his surgery below. He struggles to breathe before the surgery, but after we perform a "tie back" procedure there's a nice, wide opening. This lets oxygen get in. A tie back surgery uses nylon sutures to keep one side of the larynx open. Two hours after surgery, you can hear the difference! There's no more struggling and just nice quiet breathing.
You can also see that a small tumor on Hershey's eyelid was removed. That is a benign tumor called a chalazion, or an adenoma of a Meibomian gland.
Hershey spent a restful night at Barton Heights, and left the hospital for a five hour drive home!
Yuengling, a 7-year-old German Shepherd, had swelling along the left side of his tongue. The mass was so large that Yuengling was having difficulty breathing.
This is called a ranula, or a mucocele. It's a large pocket of saliva often formed after trauma to a salivary gland. I performed surgery at Berks Animal Emergency & Referral Center and cut the pocket open and sutured the edges together.
But before I could close the incision, the thick, ropy saliva needed to be aspirated. You can see the mass and part of the surgery in the video below.
Bruiser is a nine-year-old Boston Terrier mix who was having some discomfort in his hind end. His owners took him to see his family vet. A rectal exam revealed a firm mass just below the anus, hidden under the skin. Surgery was recommended to remove and biopsy the mass.
This surgery can be a bit tricky. The mass needs to be removed entirely, within healthy tissue to "get it all" or have clean margins. Yet we can't be overly aggressive! We need to preserve the anus and more importantly, the muscles around it, which are responsible for continence.
Surgery at Brodheadsville Veterinary Clinic went very well. Bruiser had to wear a plastic cone around his head for three weeks. He went home with pain medications and antibiotics. The mass was sent out for biopsy.
The biopsy came back a week later…benign! It was a perianal gland adenoma, a common tumor in this area.
Bruiser is lucky his owners decided to remove the mass while it was fairly small. Removing a larger mass would be much more invasive. Early detection and a good decision from Bruiser's owners made the surgery and recovery much smoother for Bruiser!
Sam is a 12-year-old Jack Russell, who had been vomiting and was lethargic for a few days. X-rays and an ultrasound revealed that he had swallowed a foreign body. There was a suspicion that he chewed pieces of carpet.
Carpet is really made of a very long string, so the risk was that Sam had eaten what is called a "linear" foreign body. Linear foreign bodies can be deadly if they cut into the intestine.
Sam was taken to surgery at Berks Animal Emergency & Referral Center. Two foreign bodies could be felt: one in the stomach and one in the small intestine. You can watch the removal of the string from the stomach and the intestine below. The video does contain graphic footage of a surgical procedure, so you may want to skip it if you're sensitive to that type of footage!
Although we expect puppies (and kittens) to eat things they shouldn't, older pets should know better. Most of the time, when an adult swallows a foreign body I suspect there is an underlying medical condition. I always take biopsies of the stomach and the intestine during surgery to check. Sure enough, Sam's biopsies revealed a common condition called Inflammatory Bowel Disease (IBD). This disease can and should be treated to make him feel better and to hopefully prevent him from swallowing another foreign body.
Happily, Sam recovered nicely after surgery! Make sure to doggy proof your house to reduce the risk your pet will eat something dangerous. And if your dog or cat is vomiting, don't wait! Take him to the vet to get it checked out.
Leia is a 4 year-old female Havanese who just so happens to be cuter than a button.
She was experiencing back pain and right hind leg weakness, in spite of pain medication and cortisone. An MRI showed a slipped disc in the middle of her back, between T13 and L1.
Leia had spinal surgery at Berks Animal and Emergency Referral Center to remove the slipped disc. This is a delicate surgery, that can paralyze a dog, if only temporarily.
Leia did great! Just a few hours after surgery, she went outside for a little walk. Nothing is going to stop Leia!
Back pain can be treated with pain medications and a slipped disc can be treated with cortisone, but studies show that in 80% of cases, these dogs actually need spinal surgery.