Dr. Phil Zeltzman's Blog
How Callie was saved by love and dedication
Callie, a very cute kitten, had a rare condition called a cleft palate.
This is an abnormal opening in the roof of the mouth that allows food to go into the nose. This causes gagging, choking, severe sneezing, infections of the nose and difficulty breathing.
In addition, affected pets don't thrive. They are typically malnourished because it's difficult to feed them enough to help them grow.
When her owner reached out to me to help with the surgery, Callie was only 6 weeks and weight only 1 pound. Her incredibly dedicated owner had already been through a lot, since she had bottle fed Callie from birth.
Doing surgery to close the "hole" in not recommended in such a young kitten.
So we agreed that we would try to hang in there until Callie is older and stronger. She needed to be a better candidate for anesthesia and surgery. Until then, family members had to take turns to feed Callie slurry every few hours.
Long story short, Callie grew stronger and eventually had surgery at Brodheadsville Veterinary Clinic (www.brodheadsvillevet.com) when she turned 8 months. On the picture below, Callie is on her back on the surgery table. The red arrow shows the normal part of the front of the roof of the mouth. The green arrow shows the hole in the back part of the roof of the mouth, ie the cleft palate.
Callie made it through surgery with flying colors and woke up smoothly after anesthesia. The picture below shows the stiched-up opening.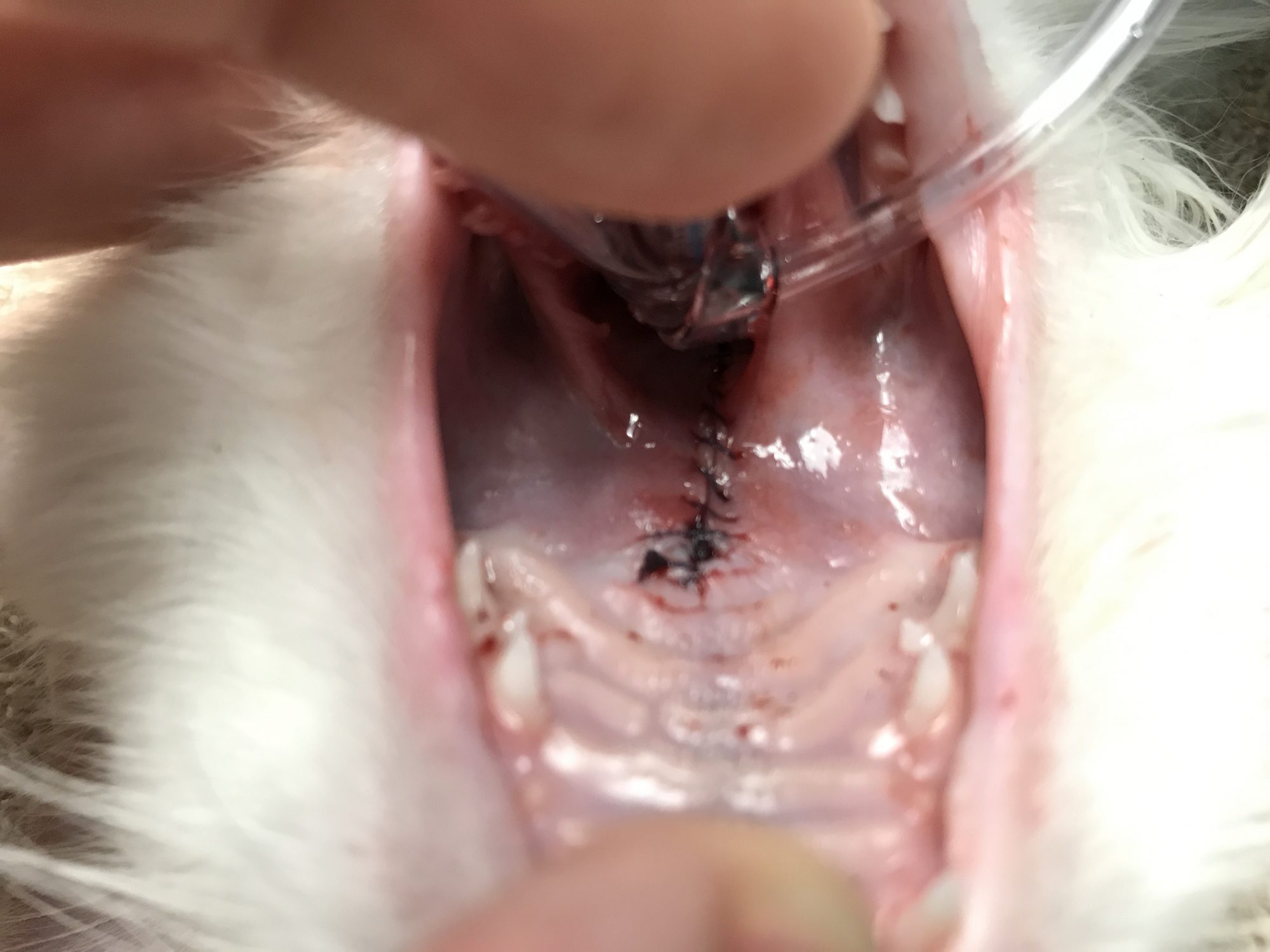 Once home, she immediately started eating whatever was put in front of her. There was no sneezing, coughing or gagging.
Callie's owner writes: "It was so amazing! I can hardly find words to describe how it felt to see her eat like a normal kitten." She quickly put on a pound.
About 2 weeks after the surgery, bubbles started to come out of Callie's nose after eating or drinking. What happened is that one tiny area didn't heal properly. This can happen, and we had discussed that possibility during the consultation. So we did another surgery, minor this time, to close the tiny pinhole.
"Since that second operation, she has had no problems eating or drinking anything. She seems to prefer dry food over wet, now that she doesn't have to worry about gagging it up."
"She just turned 1 year of age and now weighs about 9.5 lbs. She is a happy, energetic, precocious cat that looks like a kitten and we can't imagine life without her."
I love Callie's story because it's such a perfect example of how one loving human can dedicate so much time of energy and save one tiny kitten's life.
Many, many people would have given up. But not Callie's owner. She is now rewarded with a beautiful, healthy cat who can enjoy life.
Phil Zeltzman, DVM, DACVS, CVJ, Fear Free Certified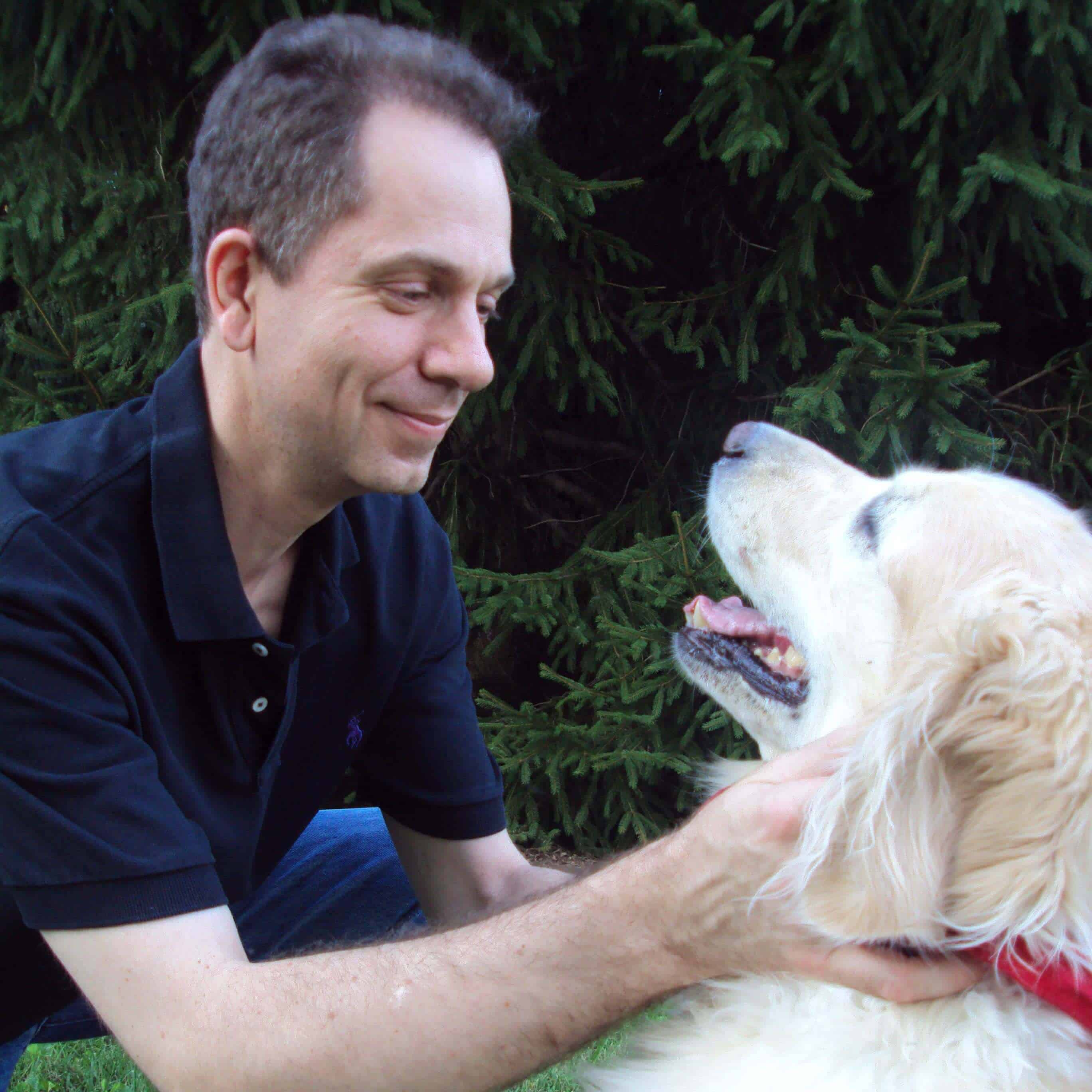 Dr. Phil Zeltzman is a traveling veterinary surgeon in Pennsylvania & New Jersey. An award-winning author, he loves to share his adventures in practice along with information about vet medicine and surgery that can really help your pets. Dr. Zeltzman specializes in orthopedic, neurologic, cancer, and soft tissue surgeries for dogs, cats, and small exotics. By working with local family vets, he offers the best surgical care, safest anesthesia, and utmost pain management to all his patients. Sign up to get an email when he updates his blog, and follow him on Facebook, too!