Dr. Phil Zeltzman's Blog
Cartier, a 12 year old, 10 pound Shih Tzu, was originally seen by her family vet for a walnut-sized mass on the right side of her chest. It looked like a simple skin mass.
But she soon developed some rather troubling symptoms that had her owners seriously worried. She became lethargic, had difficulty breathing, and even passed out on occasion. What was happening?
Cartier was taken back to her family vet, where X-rays and blood were taken to find out what was going on. The blood work was normal, but shockingly, X-rays revealed that Cartier's skin mass extended deep into her chest. It was so large, that it crossed to the other side of the chest!
The X-ray below shows the skin mass (green arrow), the chest mass (red arrow) and the heart (blue arrow).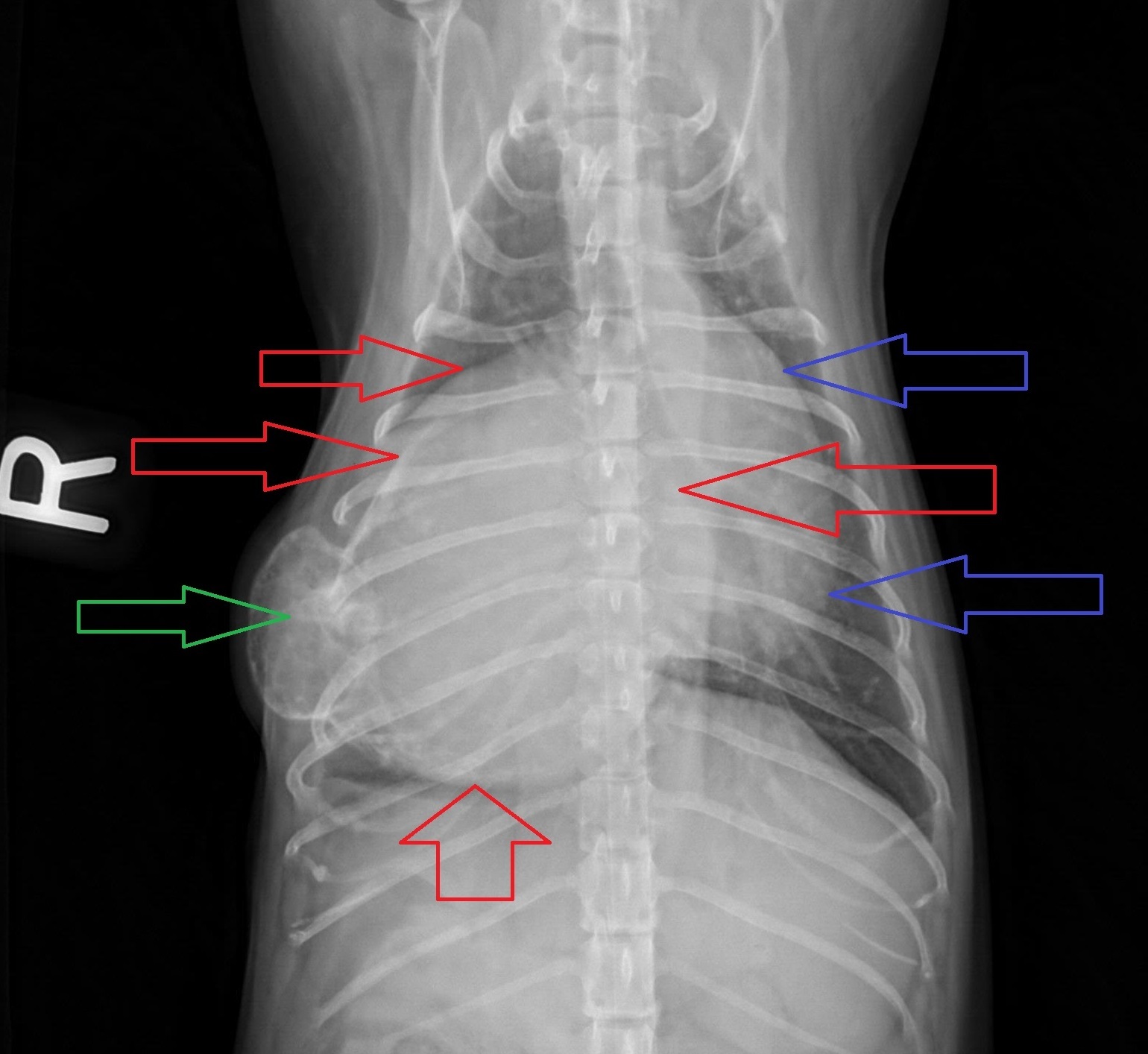 A cat scan of the chest was then performed to better understand what was going on inside the chest, and to make sure the mass had not spread anywhere. There was only one mass (between the colored arrows) but it was almost three times the size of her heart! This explained her symptoms. The only option to help Cartier was to remove the mass.
So I was called in to perform the surgery. On X-rays and on the cat scan, the mass appeared to involve a single rib, but that meant that several ribs would have to be removed in order to successfully remove the mass.
A total of 3 ribs had to be removed, along with the mass, without damaging the heart, the lungs, or any other vital structure. And remember, Cartier only weighed 10 lbs…
By the time we got done, the defect in the chest wall was so big, that it was not possible to put the remaining ribs back together. So the defect was reconstructed with nylon mesh in order to close the chest cavity.
Next, air from her chest had to be removed to allow her to breathe on her own once anesthesia was over. So we used a special plastic drain called a chest tube. Surgery was delicate, but it went well and Cartier bounced back remarkably quickly for an older lady. This is a video of her, walking around the day after surgery (chest tube still in place).
The chest tube was removed a few days after surgery and she went home safely.
The mass was sent to the lab to be biopsied. One week later, the results came back as bone cancer (osteosarcoma). This was one of the 2 most likely diagnoses. The other most likely possibility was cartilage cancer (chondrosarcoma).
One month after surgery, Cartier's owners were happy to report that she had more energy, ran around, had bright eyes, and seemed to be back to normal. Her personality had come back, she had a hop in her step, seemed much more comfortable and no longer struggled to breathe.
Twelve year old Cartier now had a new lease on life.
Her owners said: "we couldn't have asked for better results."
Addendum:
I am thrilled to report that as of July 2019, Cartier, the now 13 year old, is still doing well.
This is 7 months after surgery.
Phil Zeltzman, DVM, DACVS, CVJ, Fear Free Certified