Dr. Phil Zeltzman's Blog
Joshua's story: taking pain seriously
Joshua, a sweet 3 year old Beagle, had been seen by 3 different family vets to find the source of his pain.
His owner described bizarre signs: trouble wagging and lifting his tail; difficulty urinating and defecating.
Joshua would occasionally chew at his back leg. "Because he was in pain" his owner thought. But nobody would take her seriously.
Overall, the condition seemed to get worse with time, despite several medication trials.
Beagles are prone to slipped discs, but Joshua did not fit the picture. His neurological exam was totally normal except for pain in the lower spine.
That's when I met Joshua. His physical exam was normal, except that he had mild and consistent pain in his lower spine. Stretching his tail over his back would also cause pain. There were no other significant findings.
I wanted to take Joshua's pain seriously, so I had a heart-to-heart with his owner. There was clearly something wrong with Joshua. An MRI was the next logical step… and a big leap of faith. His owner consented to it.
The MRI report described that young Joshua (again, a 3 year old) had a mass, most likely a tumor, in his lower spine (between lumbar vertebrae L5 and L6). Even worse, the tumor seemed to be attached to his spinal cord.
Because she really wanted to help her dog, Joshua's owner elected surgery. We found exactly what the MRI report had described.
The tumor, which was almost 1 inch in length, could not be completely removed.
WARNING: THE NEXT PICTURE IS GRAPHIC !!!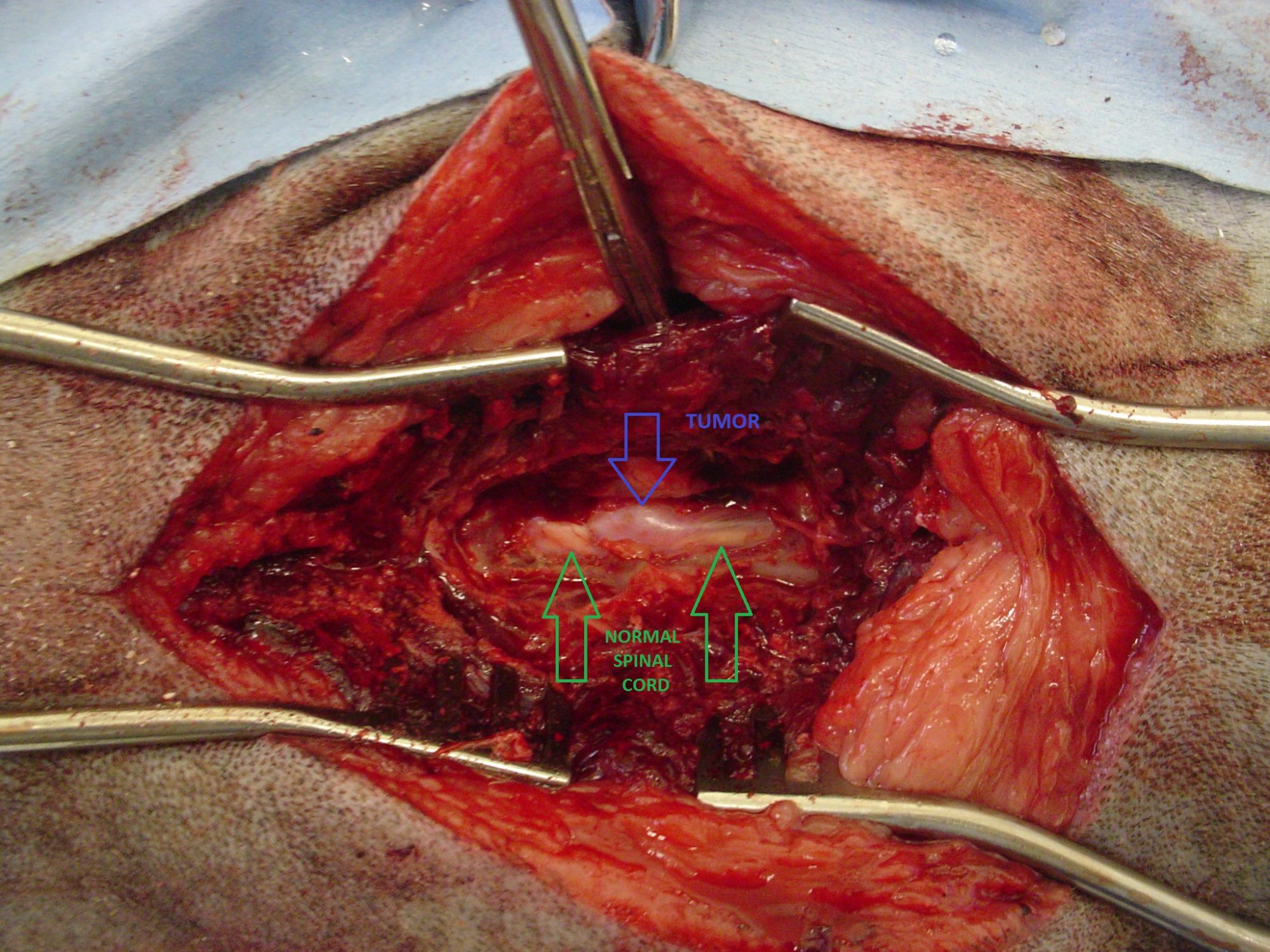 Therefore, we carefully took 3 biopsies of the mass, which in effect, decreased the size of the tumor by two thirds. So we "debulked"' the mass, i.e. we removed the bulk of it.
Removing more tumor would have put Joshua's ability to walk in serious jeopardy.
Spinal surgery is very delicate, so we typically expect worsening of the signs initially. Miraculously, just a few hours after surgery, Joshua stood up and walked! He went home a couple of days after surgery.
One week after surgery, the biopsy came back: Joshua had a bizarre type of cancer called chondrosarcoma, which is an aggressive cancer of cartilage. Luckily, it was slow-growing, or "low grade."
Two weeks after surgery, Joshua came back to the clinic for staple removal.
His owner was thrilled by his progress, since he had no sign of pain anymore. He was now able to lift and wag his tail. His neurological exam was completely normal. The only concern was occasional fecal incontinence, which we are trying to control with a special diet.
Beyond surgery, there is no good treatment for a "low-grade" chondrosarcoma of the spinal cord. Neither chemotherapy nor radiation therapy is a good option. However, Joshua might benefit from low doses of cortisone.
As your pet's best advocate, you need to keep pushing until you get the answers you and our pets deserve. If you are not satisfied with the answers you're getting, you owe it to them to ask more questions, to demand better answers, and, if needed, to be referred to a specialist.
As I always say, "pain is not acceptable." We have multiple ways to decrease pain, which may or may not involve medications.
Joshua is a perfect example of this philosophy: his owner kept pushing until she found somebody who took her seriously.
This may seem to be a sad story, and it certainly is in a way. But Joshua's owner and I would rather look at the glass half full: he is currently pain-free and happy, and his owner enjoys her pain-free dog… one day at a time.
Phil Zeltzman, DVM, DACVS, CVJ, Fear Free Certified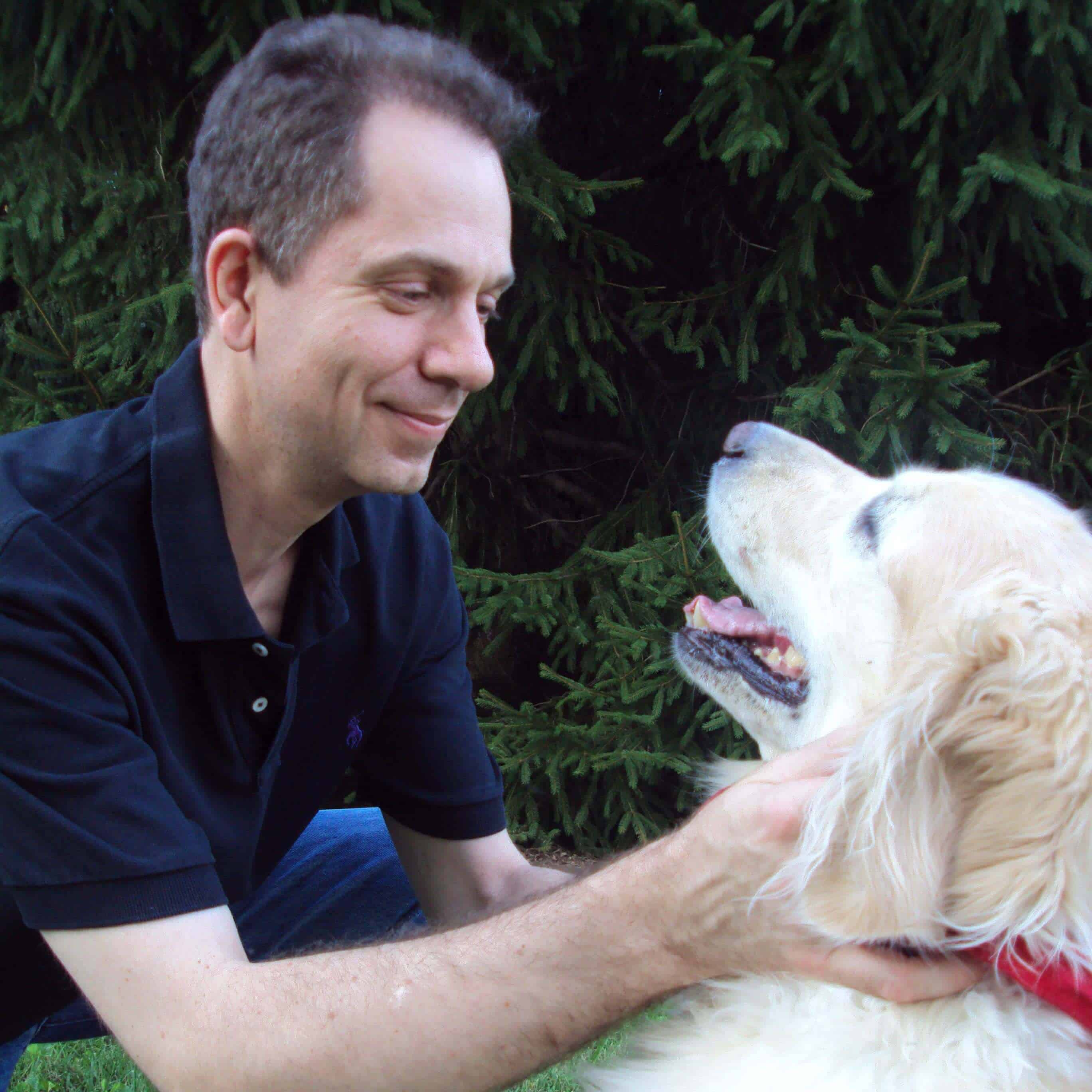 Dr. Phil Zeltzman is a traveling veterinary surgeon in Pennsylvania & New Jersey. An award-winning author, he loves to share his adventures in practice along with information about vet medicine and surgery that can really help your pets. Dr. Zeltzman specializes in orthopedic, neurologic, cancer, and soft tissue surgeries for dogs, cats, and small exotics. By working with local family vets, he offers the best surgical care, safest anesthesia, and utmost pain management to all his patients. Sign up to get an email when he updates his blog, and follow him on Facebook, too!