Dr. Phil Zeltzman's Blog
It's lar par season!!!
As the weather gets warmer, I will see more and more dogs suffering from laryngeal paralysis.
This reminds me of a recent patient with lar par, Sparky, an 11 year old Labrador. He was suffocating and was diagnosed with laryngeal paralysis. This is a serious and stressful condition where the larynx (voice box) doesn't allow enough oxygen to flow into the lungs.
His condition had been getting worse for about a year, then it suddenly got dramatically worse. When he arrived at Barton Heights Veterinary Hospital (www.bartonheights.com) in Stroudsburg, PA, Sparky had to be placed on oxygen. He was given tranquilizers to decrease the stress of suffocating.
Then something unusual happened. Because he was still struggling, he had to be placed under general anesthesia so that more oxygen could be delivered through a tube placed down the throat and into the windpipe.
This bought time until I was able to drive to the hospital and perform emergency surgery. The goal of surgery is to open up the larynx with permanent sutures (tie back surgery).
Despite a stressful start, Sparky's surgery and recovery were uneventful.

And that was exactly 2 years ago,
His owner updated us after a year: "Sparky is still with us. We celebrated his one year anniversary last night with some vanilla ice cream. He has lost a lot of his muscle in his back end, but is still ambulatory and it hasn't stopped him from trying to chase deer in the meadow (though he doesn't get too far) or climbing up on the furniture (even though he has a comfy bed on the floor)."
How does his owner feel about doing the surgery on a senior dog (11 years of age), in spite of how severe his situation was a year ago?
"It really is miraculous! We are extremely happy – beyond words, really – that Sparky had the surgery and survived the ordeal. If he had lived only a week, or a month after surgery, we would not have regretted his having it, but the fact that he is here a year later certainly underscores why he should have had it. We are so grateful to you for the gift of his life!"
You can watch a quick video of Sparky here: https://youtu.be/fy7dWlAVqnM
So Sparky is breathing well. Yet "He has lost a lot of his muscle in his back end."
It is possible that he has another nerve condition, related to lar par, that leads to progressive weakness in the back end (visit http://www.cvm.msu.edu/scs/research-initiatives/golpp/living-with-golpp for more info).
Sadly, there is no treatment. Well, besides doing the opposite of what most dogs wants to do: these dogs should not be moping around all day. They should be taken on slow, steady leash walks to keep the muscles as strong as possible.
Few pet owners are as dedicated as Sparky's owner. She wasn't about to give up on him without a fight, and the reward is a happy, breathing, deer-chasing Labrador!
Phil Zeltzman, DVM, DACVS, CVJ, Fear Free Certified
Reese, a 7 year old Chihuahua, was brought to his family vet because of raspy, difficult breathing.
He had a walnut-sized mass (in an 8 lb Chihuahua!) on his neck, near the thyroid glands.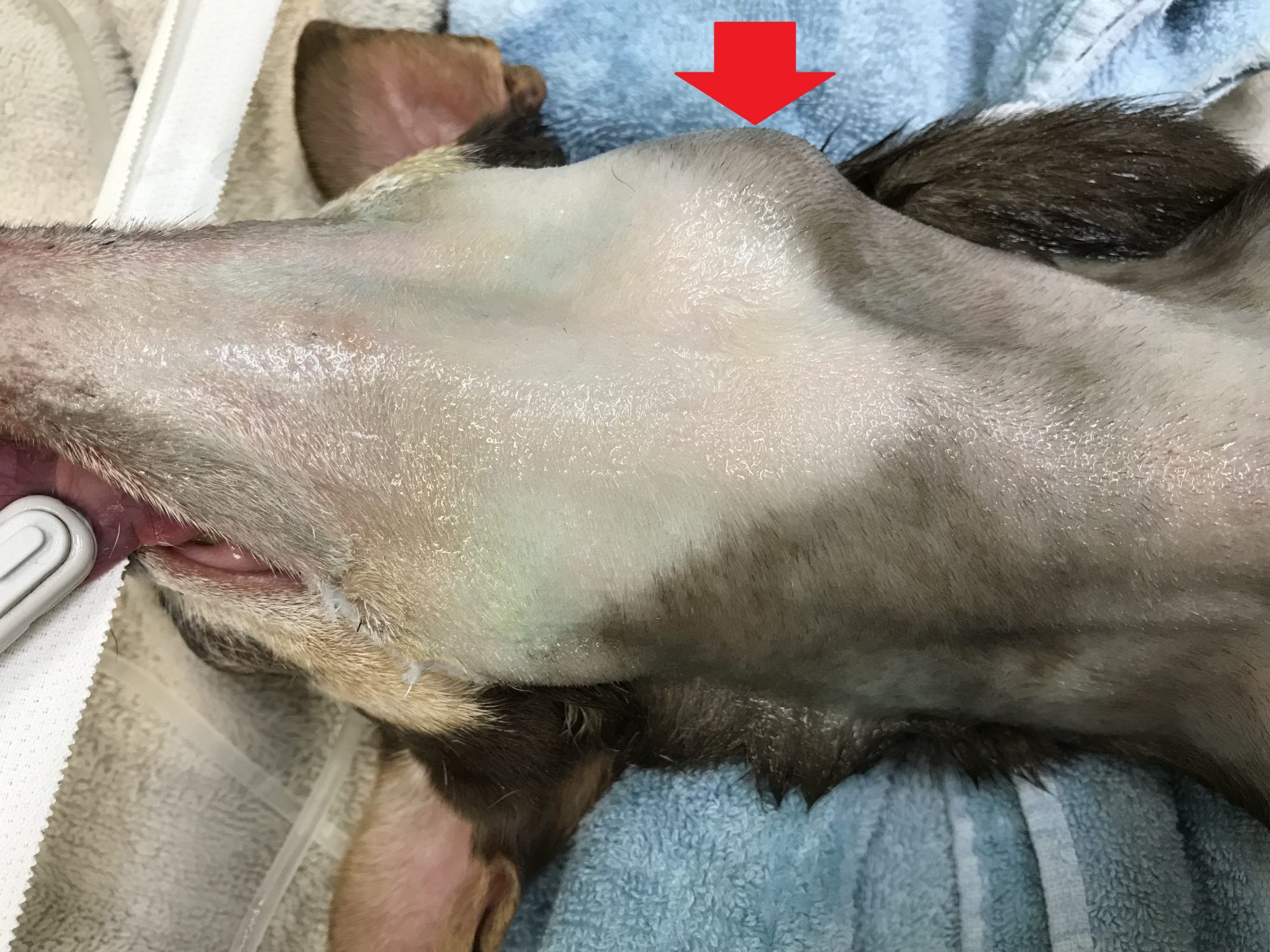 Reese's vet logically suspected that the mass was pushing on his windpipe. Surgery was recommended to remove and biopsy the mass.
Prior to surgery, chest X-rays were taken to make sure there was no spreading to the lungs. Blood work was normal, and it was decided that Reese was a good candidate for anesthesia and surgery.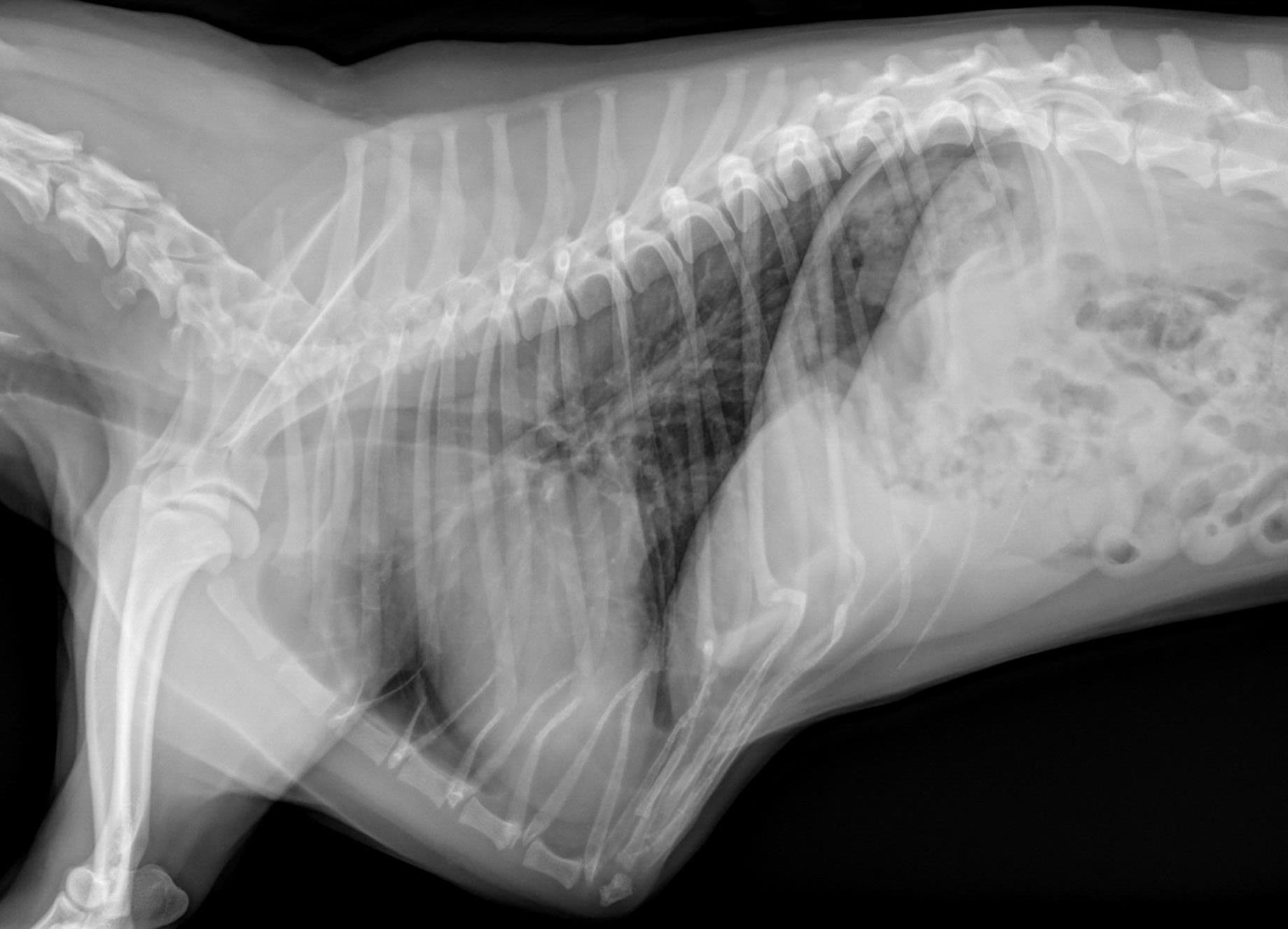 I was called in to Barton Heights Veterinary Hospital (www.bartonheights.com ) to remove the mass
Surgery was successful. Reese recovered uneventfully and his breathing improved immediately following surgery, as soon as he woke up from anesthesia.
A week later, the biopsy confirmed that the mass was thyroid cancer (carcinoma), which had been removed it in its entirety. This is not a good disease, but we had bought time and improved Reese's quality of life.
Reese's owner was rewarded by a happy pup who can enjoy life again.
Phil Zeltzman, DVM, DACVS, CVJ, Fear Free Certified