Dr. Phil Zeltzman's Blog
It's lar par season!!!
As the weather gets warmer, I will see more and more dogs suffering from laryngeal paralysis.
This reminds me of a recent patient with lar par, Sparky, an 11 year old Labrador. He was suffocating and was diagnosed with laryngeal paralysis. This is a serious and stressful condition where the larynx (voice box) doesn't allow enough oxygen to flow into the lungs.
His condition had been getting worse for about a year, then it suddenly got dramatically worse. When he arrived at Barton Heights Veterinary Hospital (www.bartonheights.com) in Stroudsburg, PA, Sparky had to be placed on oxygen. He was given tranquilizers to decrease the stress of suffocating.
Then something unusual happened. Because he was still struggling, he had to be placed under general anesthesia so that more oxygen could be delivered through a tube placed down the throat and into the windpipe.
This bought time until I was able to drive to the hospital and perform emergency surgery. The goal of surgery is to open up the larynx with permanent sutures (tie back surgery).
Despite a stressful start, Sparky's surgery and recovery were uneventful.

And that was exactly 2 years ago,
His owner updated us after a year: "Sparky is still with us. We celebrated his one year anniversary last night with some vanilla ice cream. He has lost a lot of his muscle in his back end, but is still ambulatory and it hasn't stopped him from trying to chase deer in the meadow (though he doesn't get too far) or climbing up on the furniture (even though he has a comfy bed on the floor)."
How does his owner feel about doing the surgery on a senior dog (11 years of age), in spite of how severe his situation was a year ago?
"It really is miraculous! We are extremely happy – beyond words, really – that Sparky had the surgery and survived the ordeal. If he had lived only a week, or a month after surgery, we would not have regretted his having it, but the fact that he is here a year later certainly underscores why he should have had it. We are so grateful to you for the gift of his life!"
You can watch a quick video of Sparky here: https://youtu.be/fy7dWlAVqnM
So Sparky is breathing well. Yet "He has lost a lot of his muscle in his back end."
It is possible that he has another nerve condition, related to lar par, that leads to progressive weakness in the back end (visit http://www.cvm.msu.edu/scs/research-initiatives/golpp/living-with-golpp for more info).
Sadly, there is no treatment. Well, besides doing the opposite of what most dogs wants to do: these dogs should not be moping around all day. They should be taken on slow, steady leash walks to keep the muscles as strong as possible.
Few pet owners are as dedicated as Sparky's owner. She wasn't about to give up on him without a fight, and the reward is a happy, breathing, deer-chasing Labrador!
Phil Zeltzman, DVM, DACVS, CVJ, Fear Free Certified
Penny, a 7 year old Labrador, was in deep trouble.
She couldn't go on walks or function normally. She was suffocating because of a condition called laryngeal paralysis (aka "lar par"). This meant that her larynx (or voice box) was paralyzed and didn't allow her to have enough oxygen on board.
Her owner wrote: "Lately, Penny has had several episodes where she had great difficulty catching her breath, especially after exercise or excitement. The last one of these episodes was severe enough to make her tongue go bluish for a short time."
She had surgery at Brodheadsville Vet Clinic (www.brodheadsvillevet.com) in Brodheadsville, PA, in order to open up her larynx with permanent sutures (tie-back surgery).
Three days after surgery, her owner writes: "Overall Penny is doing fantastic! Her breathing is immensely improved and our hardest problem right now is keeping her calm."
She recovered smoothly and two months after surgery, she could go on walks in the woods again.
Here is her story in video: www.youtube.com/watch?v=TvSMSLNeZRs&t=5s
As I always say, laryngeal paralysis is not a death sentence. With the proper care, patients can have a normal, happy life.
Phil Zeltzman, DVM, DACVS, CVJ, Fear Free Certified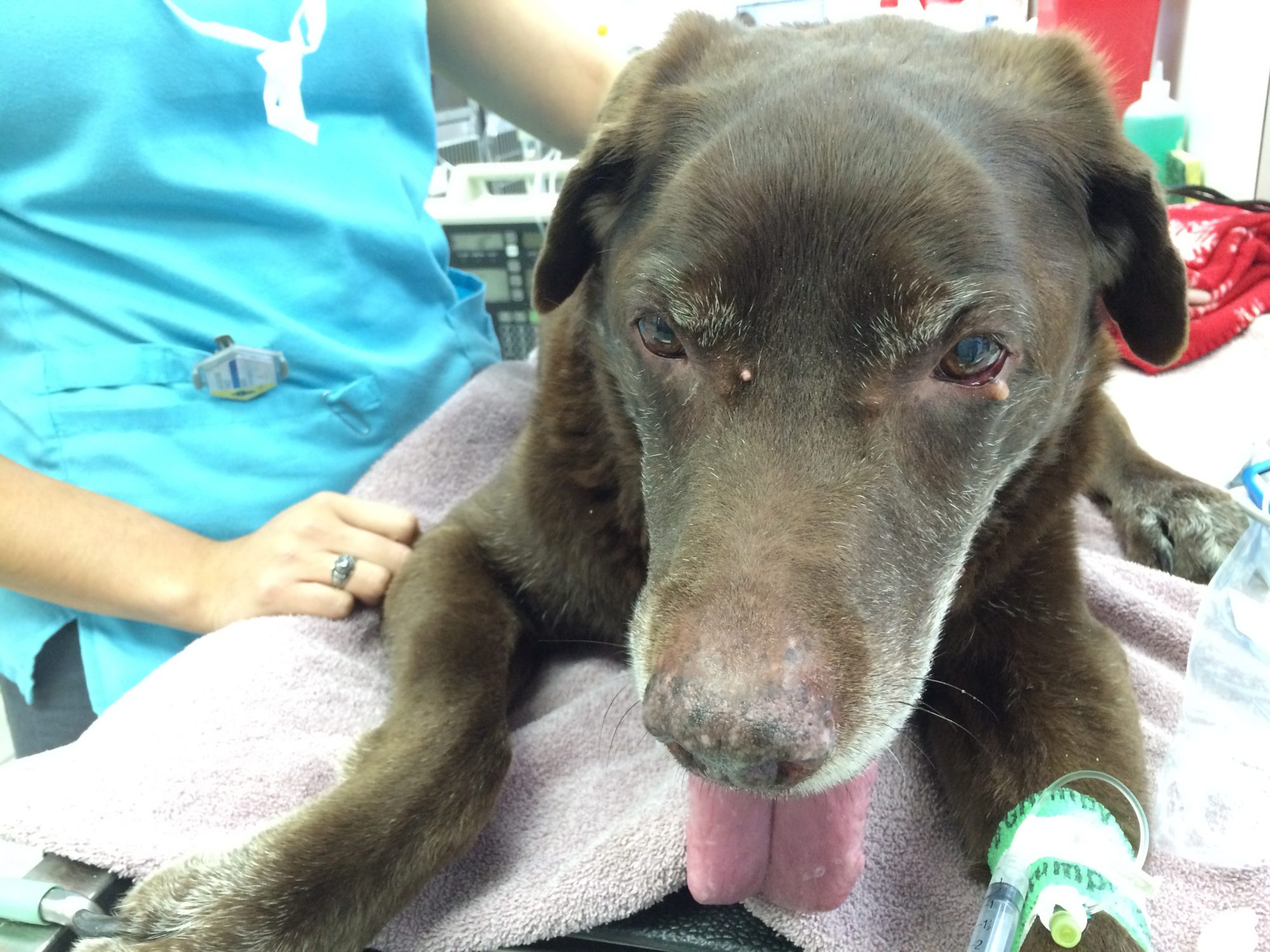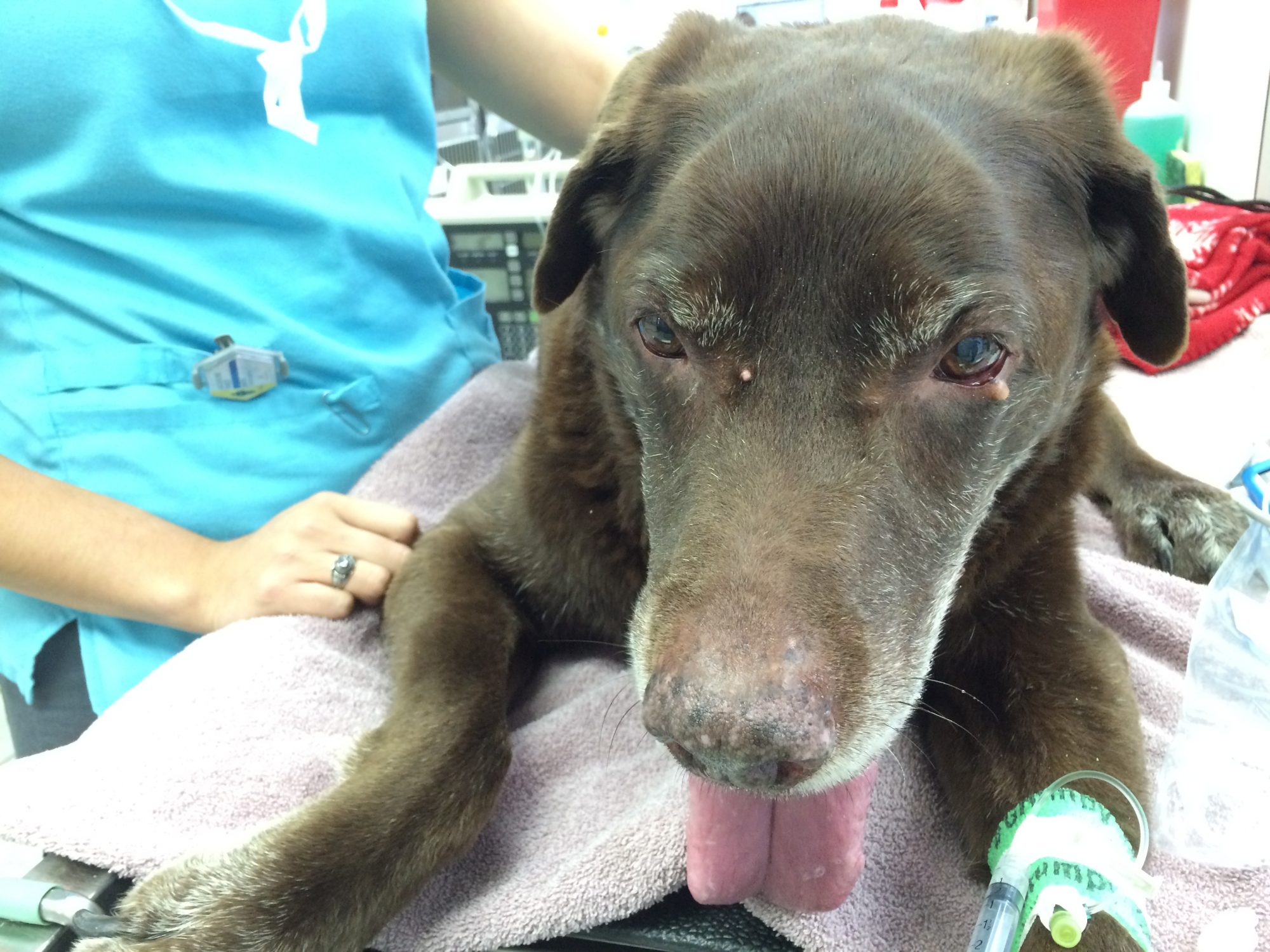 They say that a journey begins with a single step, but sometimes that step is into your car so you can drive five hours for a scheduled surgery!
Hershey's owner drove all the way from Jamestown, New York near Lake Erie so I could perform surgery at Barton Heights Veterinary Hospital in Pennsylvania. It was quite the road trip.
Hershey is an eleven-year-old Lab whose laryngeal paralysis made it difficult for him to breathe. A complicating factor is that he's diabetic. Hershey's vet was not sure that surgery was the best bet, but his owner loves Hershey and wasn't ready to give up on her best friend.
You can see a video of Hershey and his surgery below. He struggles to breathe before the surgery, but after we perform a "tie back" procedure there's a nice, wide opening. This lets oxygen get in. A tie back surgery uses nylon sutures to keep one side of the larynx open. Two hours after surgery, you can hear the difference! There's no more struggling and just nice quiet breathing.
You can also see that a small tumor on Hershey's eyelid was removed. That is a benign tumor called a chalazion, or an adenoma of a Meibomian gland.
Hershey spent a restful night at Barton Heights, and left the hospital for a five hour drive home!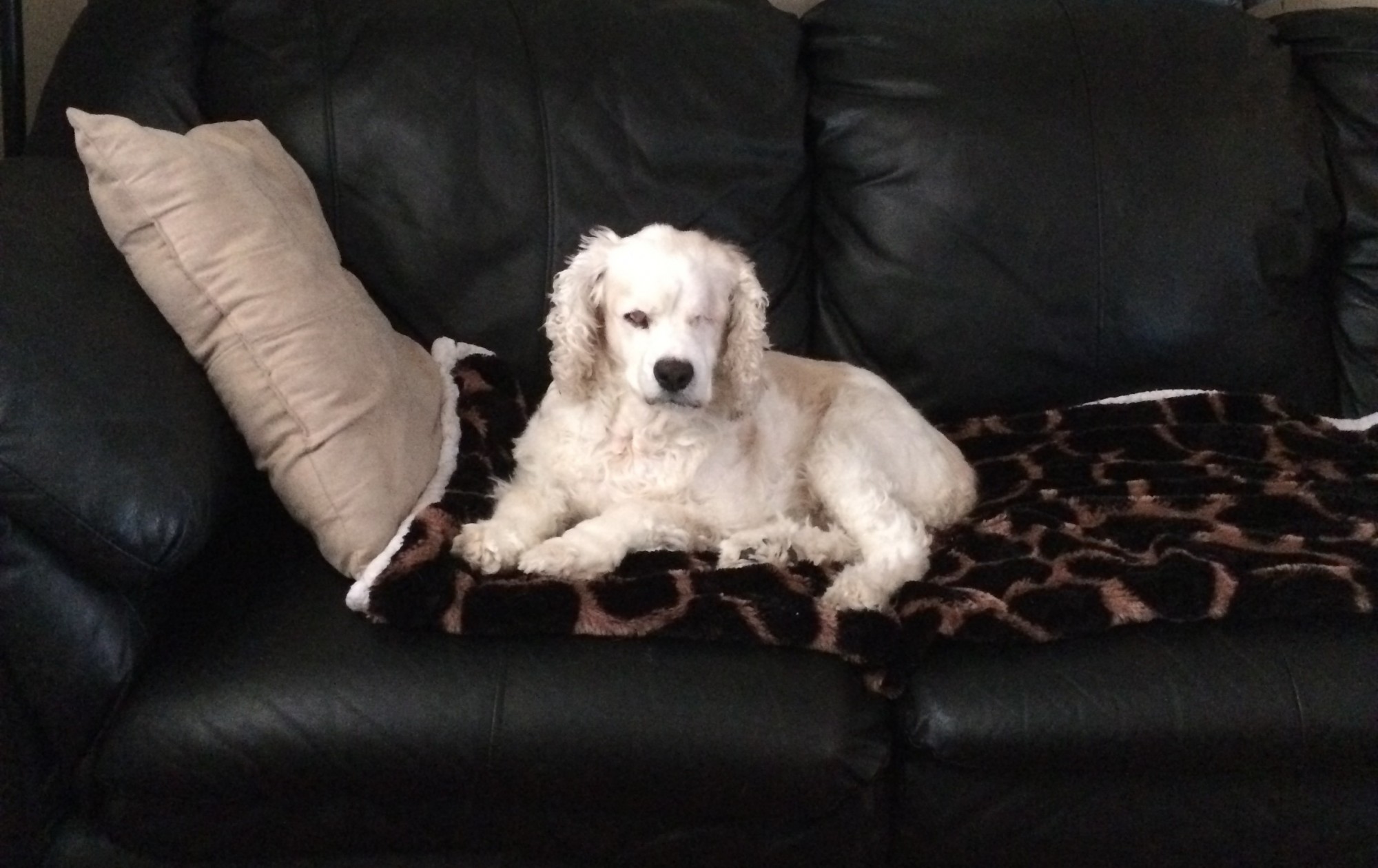 Matches is a 13 year old female Cocker Spaniel who, as you can see, rules the home from her royal couch.
She previously had to have her left eye removed because of glaucoma, but she was referred to me because she had difficulty breathing. Her family vet diagnosed her with an unusual condition in a Cocker: laryngeal paralysis, or lar par.
This was very surprising. It's a common condition in Labradors, but rare in other breeds such as Cockers.
Lar par is a stressful ailment where the two folds of the larynx (or voice box) do not open and close as the patient breathes in and out. The folds remain closed – paralyzed – and the patient literally suffocates. This can be fixed with "tie back" surgery, which involves placing 2 strands of heavy nylon to open the left side of the larynx.
It's a delicate surgery, but typically successful as it opens the airway so that the patient can breathe. Matches recovered very nicely and quickly from surgery at Blairstown Animal Hospital in New Jersey. So far, she is doing great.
Below, you can see a preop and postop video of the larynx.
In the "before" section, don't be fooled by the movement at the bottom of the folds! These  are the vocal cords, which do nothing for breathing. Look at the top of the folds, and you will see that they do not move, even when she tries to breathe in.
In the "after" portion, the left side of the throat (which appears on the right side of the screen!) is open to allow air from going in.
It's very important for veterinary professionals to never assume! I was surprised to hear from my colleague that he had a Cocker with laryngeal paralysis, but sure enough, that's what she had.