Dr. Phil Zeltzman's Blog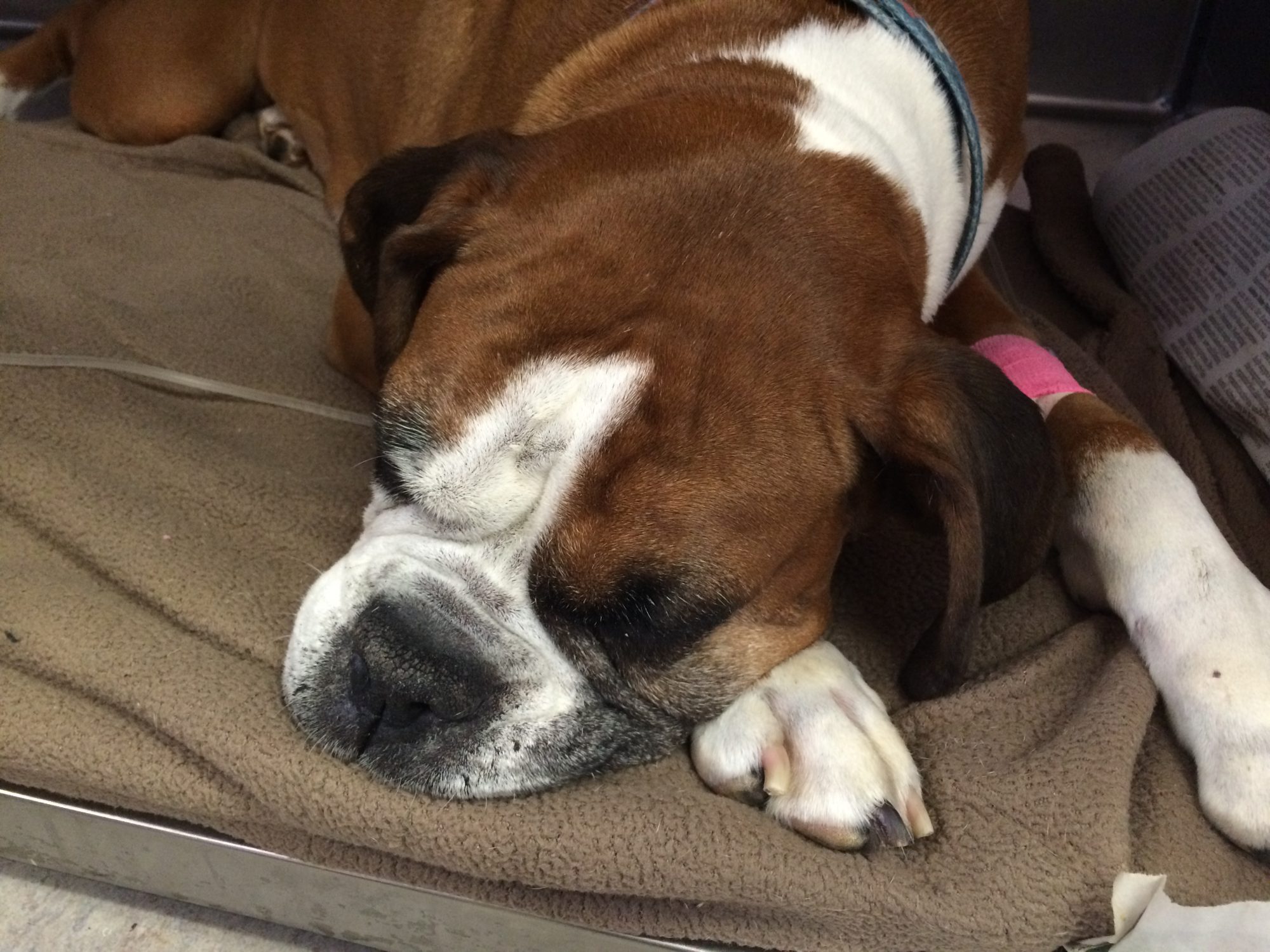 Dakota, a 7-year-old female Boxer, was brought to her family vet because she hadn't been acting herself for about two weeks. She was drinking more, eating less, and seemed weak.
X-rays revealed that Dakota had a very large uterus. Her classic symptoms and the X-rays confirmed that Dakota had a pyometra. This means that her uterus was filled with a large amount of pus.
This can be deadly.
Emergency surgery was performed that same evening at Brodheadsville Veterinary Clinic. Removing a pyometra is essentially a complicated spay procedure. The main difference is that the uterus is huge and filled with infected fluid. Care must be taken to remove the infected uterus without any spillage to the rest of the belly. After surgery, the uterus weighed in at 7 pounds.
You can see a video of part of the surgery below. Just know that it contains graphic footage of a surgical procedure, so if you're sensitive to that you may want to skip the video.
Dakota recovered quickly from surgery and anesthesia, and started eating and drinking normally shortly after that. She was back to her lovable self in one week.
Spaying your pets is essential! If you spay your cat or dog at an early age, you help reduce the risk of uterine cancer, ovarian cancer, and pyometra. Plus, spaying your pet before the first heat cycle virtually eliminates the risk of mammary tumors (including breast cancer).
If you are not planning to breed your female pet, please plan to have her spayed before she ends up in a life-threatening situation!
Angel was rescued after she was found running on the side of the road. An approximately 8-year-old Doxie, this sweet girl needed all the help she could get.
She was suffering with two large mammary masses – one with open draining wounds.
Because there was a 50-50 chance the masses were cancerous, there was a risk of spreading to the lung. We took chest X-rays before surgery. It didn't show any spreading to the lungs, but it did show calcium deposits inside the tumors.
This surgery at Berks Animal Emergency & Referral Center was quite the challenge. Removing all the affected tissue required removal of the 2 masses and some healthy skin around it. In addition, in order to try to "get it all", some of the muscles of her belly (her abs) were removed. She was also spayed during the procedure. The skin stitches were so tight, I was concerned that they would pull through the skin. To try to decrease that risk, a few special sutures, called stent sutures, were placed along the long incision. One week after surgery, the incision looked great and the stents were removed.
Unfortunately, the biopsy of the masses came back as low-grade cancer.
The only way to virtually eliminate the risk of breast cancer is to spay your female dog (or cat) before her first heat cycle.
Dogs with mammary tumors still should be spayed. It's too late to prevent mammary tumors, but you can stop a life-threatening infection of the uterus called pyometra.
Angel is looking for a foster home or a furrever home to provide a comfortable place to recover and get the TLC she desperately deserves! Please contact Dachshund Rescue of Bucks County at www.doxierescue.com or (215) 736-3338 for more information.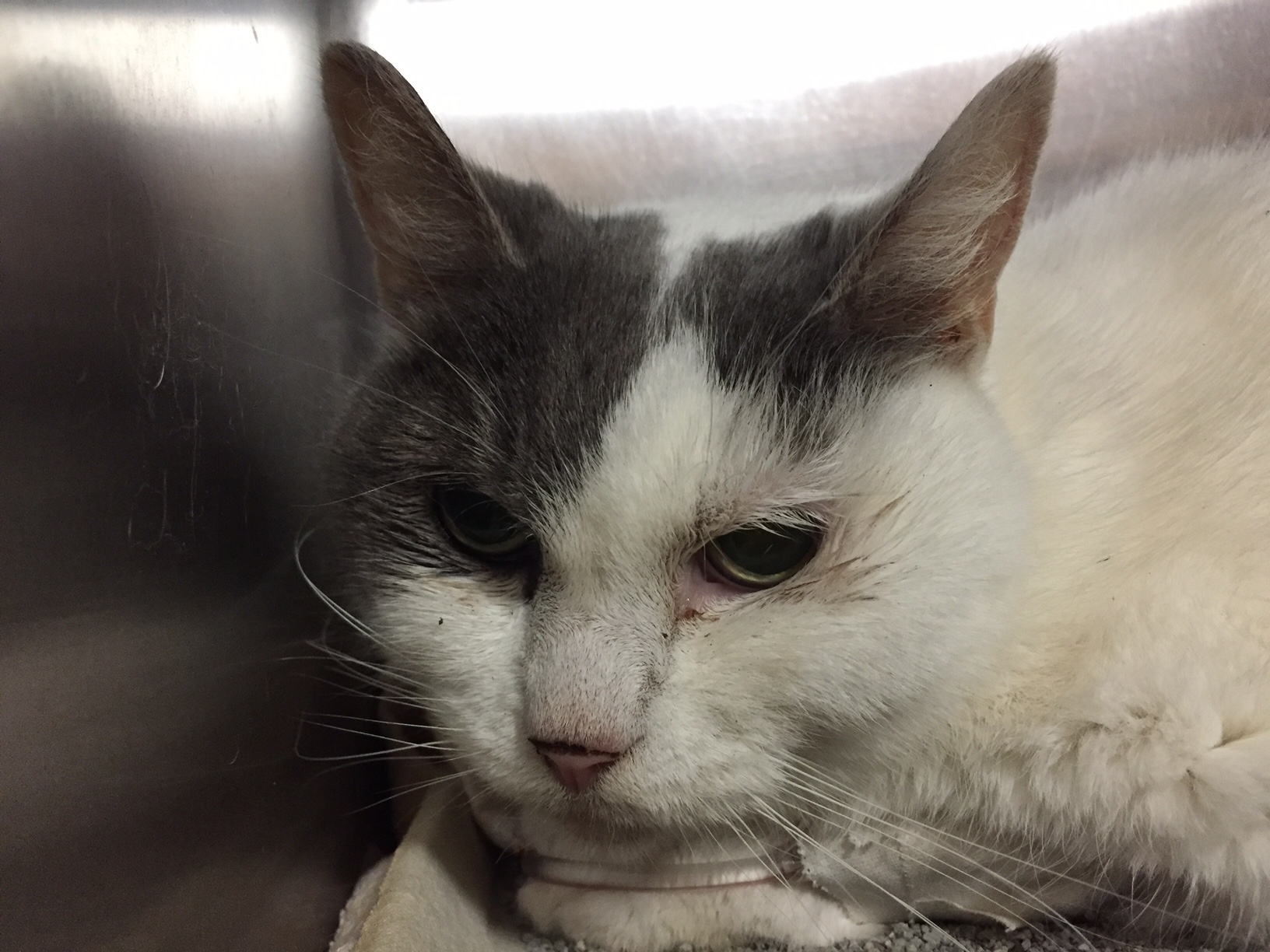 When veterinarians say it's important to spay your pets, we really mean it! Skinny Minnie is a nine-year-old female cat. She was taken to the local emergency clinic because she wasn't feeling well and had a bloody discharge from her vulva. An ultrasound showed a pyometra – a uterus full of pus.
She was started on IV fluids, pain medication and antibiotics. Emergency surgery was scheduled at South Mountain Veterinarian Hospital the next day.
Surgery for a pyometra is essentially a modified spay. It's a bit riskier since there are much larger blood vessels than usual.
Thankfully, surgery went well and she made a full recovery.
Skinny Minnie's owner is now aware that cats (and dogs) should be spayed before they are 6 months of age to avoid pyometra, as well as unplanned pregnancies and mammary tumors. Spaying a pet can save her life!